Posted
September 29, 2014
Bicycle registration program contributes to cycling culture at Temple, cuts thefts in half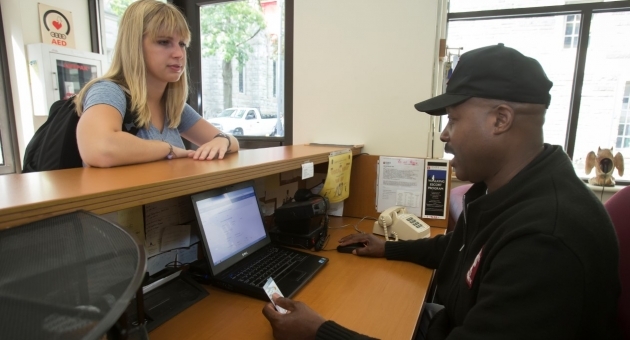 Temple student Margarita Hoelper describes the university's free bicycle registration program with two words: Quick. Easy.
"And you can save a couple bucks," she added, highlighting a program perk: Each registrant receives a free U-lock.
Hoelper's bicycle is one of 575 to be registered with Temple Police in the last year thanks to a partnership among Campus Safety Services, Temple's Office of Sustainability and Temple Student Government.
Registering a bike begins online. Next registrants are asked to bring their TUid and their bike to any of four Campus Safety Services locations to finish the process, which includes placing stickers on the bicycle frame to act as a theft deterrent (one sticker states that the bike is registered with Temple Police) and to help recover them if lost or stolen (through unique identification numbers).
As a result of the program and related efforts, bicycle thefts at Temple have been cut in half, from 51 in the first eight months of 2013 to 25 during the same period this year.
"It's devastating to students," Charles J. Leone, executive director of Campus Safety Services, said of stolen bicycles. "It's very important for me to reduce that and try to safeguard the property so that students can have that means of transportation, have a good quality of life and feel as comfortable as possible."
Across many college campuses, theft is the most prevalent type of crime. It's also one of the most preventable: The majority of thefts tend to be crimes of opportunity where unattended—or in the case of some bicycles, improperly locked—property is taken.
In late 2012 and early 2013, Temple Police saw an increase in bicycle thefts. To combat the issue, university officials responded in a variety of ways, including posting signage on bicycle racks to emphasize that the university's 1,700 bicycle parking spaces are actively patrolled and conducting outreach through social media and in-person training about proper locking techniques.
In addition, Temple Police formed a task force with the Philadelphia Police Department in which the two agencies compared crime patterns and set up improperly locked decoy bicycles where police were seeing higher volumes of theft. The decoy operations resulted in arrests.
"It's one of our goals to increase the cycling culture on campus, and one of the ways we can do that is to promote the message that it's safe to ride your bike, both for your bike and for you," said Kathleen Grady, director of the Office of Sustainability.