Record-breaking Lew Klein Awards means more student scholarships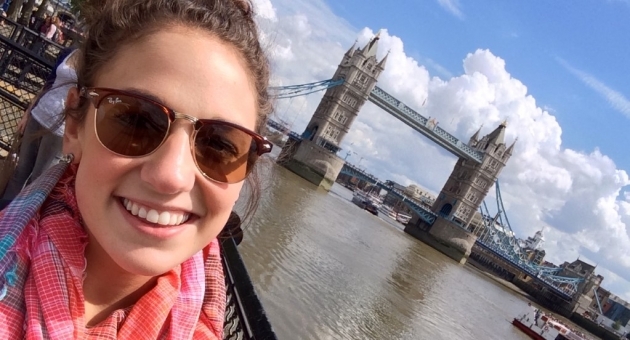 The recent 2014 Lew Klein Alumni in the Media Awards will pay off in a record number of scholarships for students at Temple University's School of Media and Communication (SMC).
This year's record-breaking event will enable SMC to more than double the number of scholarships to 50 from the 20 awarded in the past year. The scholarship is designed to help students undertake internships, work on independent projects or study abroad.
Aryann Cuda, School of Media and Communication, Class of 2015, used her Lew Klein scholarship to attend The Children's Media Conference in Sheffield, England, this summer. For three days, she attended workshops, research sessions and speeches.
"I feel I walked away from the conference with a new understanding of the children's media business," she said. "I have learned that many children's media professionals are genuinely interested in providing quality content for children and are inspired by others who share the same goals."
In addition to England, Klein scholarship recipients experienced opportunities in Germany, Spain, South Africa, Hong Kong, New York City, Los Angeles and Washington, D.C. Others interned closer to home at 6abc and WMCN-TV.
"In today's interconnected world, the opportunity for our students to study and work overseas is invaluable," said SMC Dean David Boardman. "These scholarships truly make a difference in the ability of our students to land and thrive in great jobs."
In South Africa, Tyler Horst, School of Media and Communication, Class of 2015, was able to capture on video the stories of people who live thousands of miles away.
"I found part of my own life in the stories of the people I met in South Africa and learned that, just because you come from half a world away, doesn't mean you cannot come to understand the lives of people from another culture," he said.
Some of the students didn't even need a passport for a life-changing experience. Erika Koiva, School of Media and Communication, Class of 2015, interned in the marketing department of MRY, a creative and technology agency, as part of the SMC Study Away program in New York City.
"Interning for the agency truly gave me a sense of their culture, helping me realize that is where I want to be, or at least in a very similar agency and environment," the advertising major said.
Through the relationship she built with the firm's chief marketing officer, Koiva now has a solid network of industry contacts.
"Without this scholarship, none of this would be possible," she said. "I would never have been able to get my dream job and live in my dream city. Without this scholarship, I would never have known for sure where I want to be or what I want to do."
—Jeff Cronin