Temple's latest draft campus plan includes new library, large central quad
Bold new vision for future of campus takes shape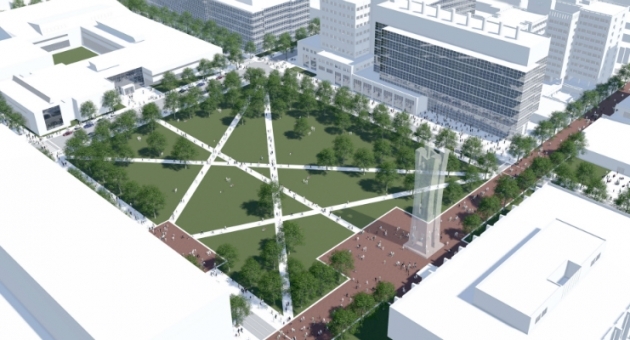 Temple University today published the newest draft of a comprehensive campus plan that details a collective vision for continued transformation and recommends signature projects that include a new library, an interdisciplinary science building and a vast green space at the heart of Main Campus.
"This crucial strategic framework for planning and development touches on practically every aspect of university life, spans all domestic campuses and is nothing short of transformational," President Neil D. Theobald said. "It reflects input from the Temple community and shows the depth of our commitment to building Temple University into a place that is worthy of our past and well-positioned for the future."
The latest version of the plan is available online for public viewing. The plan will also be rolled out for continued topical conversation among university stakeholders at Visualize Temple, a discussion hub that has attracted more than 3,000 participants.
Small-group sessions, town halls and community meetings are being planned for November to invite further discussion.
Signature elements of the Main Campus plan include the following:
A state-of-the-art library at the core of campus on the current site of Barton Hall between Liacouras Walk and 13th Street. Library features are likely to include a robotic text-retrieval system, innovative spaces for interaction and collaboration, and a green roof.
 
A massive central green space—the size of a full city block—to provide Main Campus with its first-ever true academic quad. The green space (bounded by 13th Street, Polett Walk, 12th Street and Norris Street) would expand north from the current space commonly known as Beury Beach after the planned demolitions of Beury Hall and the Biology-Life Sciences Building.
 
A new interdisciplinary science building—as or even more impressive than the recently opened Science Education and Research Center—anchoring the northeast corner of campus.
 
An expansion of the College of Engineering in support of the university's goals to increase academic space for instruction and research.
 
A consolidated home for the College of Public Health (formerly the College of Health Professions and Social Work), which is currently divided among several buildings. This is envisioned to the east of Weiss Hall.
 
Renovation of existing buildings for more flexible, contemporary learning spaces, including the forthcoming $11.5 million renovation of Wachman Hall, future renovations of Ritter Hall and Ritter Annex, and a repurposing of Paley Library after the new library is built.
 
Improvements to Temple's main pedestrian thoroughfares, including Polett Walk.
The campus plan also features a variety of long-term residential life components, space to significantly enhance research capacity and promote collaboration, and suggestions to improve student and faculty life. The plan recommends phased implementation of various projects, some within the next five years and others over the next decade or longer. Details on a landscape master plan, to be implemented simultaneously with the campus plan, will be released in November.
Other recommendations include further growth of research space at the Health Sciences Campus; investing in Temple's Center City campus to increase street-level visibility (renovations are underway for a new ground-floor café and bookstore); and maintaining Temple's presence at the School of Podiatric Medicine's campus at 8th and Race streets and in Harrisburg.
The plan suggests moving operations at Temple Fort Washington to Ambler Campus and for making improvements at Ambler, such as enhancing facility use and renewing student and faculty amenities.
"There is no better way to create a comprehensive vision for Temple University than through the input of members of the extended Temple community," said James P. Creedon, senior vice president for construction, facilities and operations. "We have been inspired by the level of engagement thus far and are excited about the culmination of a two-year planning effort to determine the best options for the future of one of America's premier urban universities."