Temple University leaders celebrate China Rule of Law program's 15th anniversary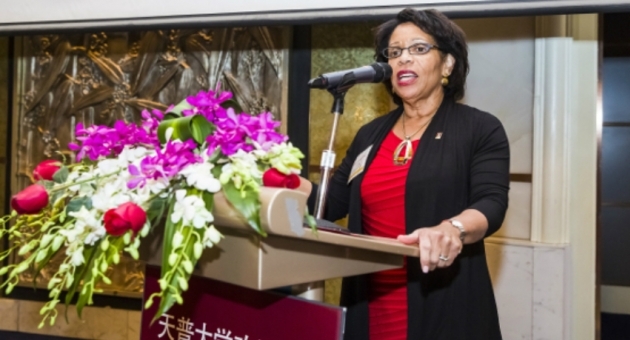 Courtesy of Temple Beasley School of Law
A delegation from Temple University's Main Campus, including President Neil D. Theobald and Provost Hai-Lung Dai, accompanied Temple Law Dean JoAnne Epps to Beijing recently to celebrate the 15th anniversary of Temple Beasley School of Law's China Rule of Law program, attend commencement exercises for its newest class, and meet with international partners and alumni.
The trip, which took place in late October and early November, included visits with the leadership of the Supreme People's Procuratorate—China's national prosecutor's office—and the State Administration of Foreign Experts Affairs. At the meetings, Temple leaders thanked Chinese partners for their support and asked for their suggestions, advice and guidance on how to further collaborate on the Rule of Law program.
In 1997, Temple established a master of laws degree program in Beijing to educate Chinese judges, prosecutors, government officials, law professors and lawyers in U.S. and international legal principles. The 15-month program, taught by U.S. faculty and organized in collaboration with Tsinghua University School of Law, is the first foreign law-degree-granting program approved by the Chinese Ministry of Education. To date, there is no similar program.
Former Temple Law Dean Robert Reinstein and former Temple President Peter Liacouras started the program, foreseeing the emergence of China as a global power.
"Dean Reinstein recognized an opportunity to contribute to the shaping of Chinese legal culture by offering training in American legal principles to Chinese lawyers and judges in positions of influence," Epps, the current dean, wrote in a blog post from Beijing. "Each time we visit we are gratified to hear of the marked upward trajectory of the careers of our former students, and of the impact of our training on their legal thinking."
The Rule of Law program has three major parts: the Beijing master of laws (LLM) degree, judicial and prosecutorial education programs, and scholarly roundtables. Across all programs, Temple has educated 1,281 legal professionals, with nearly two-thirds of these participants coming from the public sector. That figure includes 384 judges, 163 prosecutors, 115 government officials, 162 law professors and 46 legal staff from nongovernmental organizations.
On Nov. 1, the Temple-Tsinghua LLM program held its annual graduation ceremony at Tsinghua University. This year's class of 48 students is the second-largest. The 15th class, which just started, is 49 students.
"Remember: You are here because an idea was grown and nurtured," Theobald told graduates during his commencement address. "I encourage you to find partners who will help you nurture your ideas. Do not be afraid to look far and wide for these partners—even if you go halfway around the globe."
That night, the Temple Law Alumni Association of China celebrated its 15th reunion, where Epps announced the creation of the Temple-Tsinghua Alumni Fund. Established by alumni donors, the fund will provide scholarship support to deserving students from western China.
The reunion was attended by nearly 300 alumni from across China and the world, including Scott Cooper, LAW '92, president of the Temple University Alumni Association (TUAA). At commencement, Cooper brought greetings and congratulations from the TUAA and inducted the new graduates into the alumni association.