Temple community unites in MLK service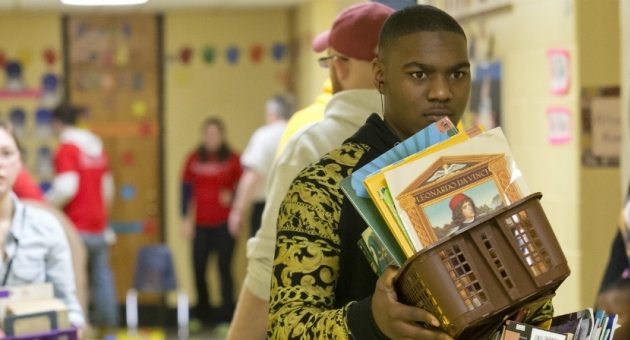 Martin Luther King Jr. once declared that "life's most persistent and urgent question is 'What are you doing for others?'"
On Monday, Jan. 19, the national observance of Martin Luther King Jr. Day, more than 500 Temple students, faculty and staff answered King's query alongside North Philadelphia residents during the 20th Annual Greater Philadelphia Martin Luther King Day of Service. 


From Tanner Duckrey School on west Diamond Street to Mount Zion United Methodist Church, located a few blocks east of Main Campus, service projects organized by Temple's Government, Community and Public Affairs office drew hundreds of volunteers.
Working to improve a community is a joint effort, one that takes the involvement of everyone, said Temple President Neil D. Theobald. 
"I'm very proud to see that so many Temple students were willing to lend their time to such an important project," said Theobald, who spent part of his day painting baseboards at Duckrey. "Temple has an ongoing relationship with local elementary schools like Duckrey, where we offer after-school programming, tutoring and college mentorship programs. In the process, Temple students earn real-world experience while working on behalf of the people of this great city."
 By 10 a.m., approximately 200 students were cleaning, painting, moving furniture and otherwise lending a hand at the elementary school.
 "Temple's assistance means a lot to our students and teachers. It shows students that someone cares about their education and wants to see them succeed," said David Cohen, Duckrey's principal.
The success of the day was due in part to Tiffany Wilson, CST '01, CPH '03, president of the Temple University Black Alumni Alliance (TUBAA), who put out a call for volunteers via the group's social media pages.
Dana Oliver, SMC '07, executive fashion and beauty editor for the Huffington Post, noticed TUBAA's posts on Facebook and decided to spend her day volunteering. 
"I didn't want to stay in bed today," said Oliver. "With work and other responsibilities, it's hard to find ways to volunteer. This gave me a reason to get up and get out."
Service is more than a way to make improvements, said Pauline DeAndrade, an accounting senior at Temple's Fox School of Business; it's a way to support the community. 
"When you see images from the '60s of people marching, protesting and fighting against a system that wasn't working, it inspires you to do more," said DeAndrade. "I wanted to make sure I did something."
Chris Cerovsky, a first-year student at Temple's School of Medicine from Fayetteville, Georgia, agreed with DeAndrade.
 "I appreciate how we got a day off to volunteer," he said. "Coming together as one community is what makes it stronger."