Temple a top contributor to Teach For America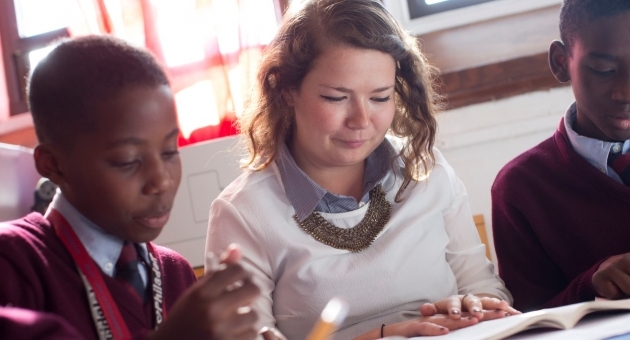 Ryan S. Brandenberg, CLA '14
This year, 33 Temple University graduates were accepted to Teach For America (TFA), making the university one of the top contributors to the organization. TFA, a national nonprofit, places teachers in low-income, high-need schools across the United States.
During the current school year, more than 10,000 TFA teachers, or corps members, are instructing 750,000 students in 50 regions. Temple is consistently ranked among the top 25 colleges that contribute corps members to join TFA's fight against education inequity. 
David Peters, recruitment manager for TFA, has found that Temple graduates are a perfect fit for his organization. "So many of our students from Temple are passionate about working with their communities," he said. "The passion to improve opportunities for youngsters who are growing up in low-income communities is directly related to Teach For America's core mission."
A TFA alumnus who taught in the Philadelphia schools, Peters knows firsthand that this passion can have an impact: "We are strongly invested in the idea that an educator can really transform the lives of students."
Each year, about 57,000 students and professionals apply to join Teach For America; in 2014, more than 100 Temple graduates applied. The rigorous application process involves a full-day interview and sample teaching lesson.
"The process is highly selective, and the Career Center has worked with TFA for several years to build a solid talent pipeline," said Linda Lawton, associate director of employer relations at Temple's Career Center.
According to Peters, Temple is making a substantive contribution to education. "It is producing a really diverse set of leaders and setting its students up to make a unique impact in the classroom," he said.
TFA offers corps members the opportunity for training, coaching and hands-on experience during tenures of two to five years. Many continue in education careers after they complete their time with TFA. "About 65 percent of our alumni are working as classroom teachers, as educators or in the education field," Peters said.
Temple alumna Samantha Levine, EDU '11, is one those who continued in the education field. Levine was a TFA corps member for two years in North Philadelphia and currently teaches special education to seventh-graders at Boys' Latin in West Philadelphia.
"TFA gave me the mentorship and professional development sessions I needed, and they acted as a support system when I needed it," she said.
TFA was equally important to Juliet Curci, EDU '11, director of School and Community Partnerships in Temple's College of Education: "Teach For America was instrumental in allowing me to recognize my potential to serve the community as a change agent."
For more information about Teach for America, contact David Peters at david.peters@teachforamerica.org.
-August Tarrier