Take Charge campaign expands in 2015
Phase 2 launches with a regional Super Bowl ad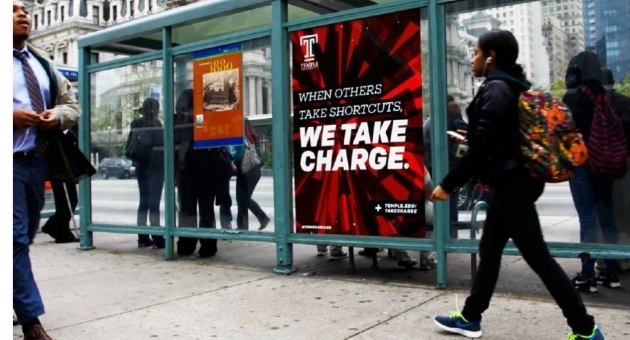 Temple has a great opportunity to run a local ad during Super Bowl XLIX and is inviting the Temple community to decide which version of the ad will run during the game. The winner will be posted on Temple's social media channels and air in the Philadelphia region.
That ad is a part of Temple's Take Charge campaign, which launched last fall to showcase the university's incredible momentum: Temple's rankings are rising. New academic and research facilities are opening. Innovative programs to increase education access are thriving.
The energy is palpable, and it's time to tell the Temple story in a big way.
Telling a meaningful story is crucial for higher education, because colleges and universities tend to use the same messages: "Follow your dreams, find yourself here, engage in a learning community," said Joseph Glennon, assistant professor of advertising at Temple. To stand out, Temple needs to stake its own unique position through a distinctive brand. "I tell my students all the time: If we're all saying the same thing, we're saying nothing.'"
If we're all saying the same thing, we're saying nothing.
-- Joseph Glennon, assistant professor of advertising
"The Temple story is about people who are tenacious and visionary; they don't sit back and wait for things to be explained to them," said Karen Clarke, Temple's vice president of strategic marketing and communications. "We step forward and take charge; we make things happen. In talking with people all over the country, that proves to be the common theme—the common characteristic that binds us together as Owls."
The university's story underscores the immense value of a Temple education for students and alumni—not to mention the impact Owls have on Philadelphia, the nation and the world.
"People do not understand how great a university Temple is," said Clarke. This campaign is designed to bring that to the forefront, and that's why the emphasis on the benefit—'We take charge"—is so important.'