From dream to distribution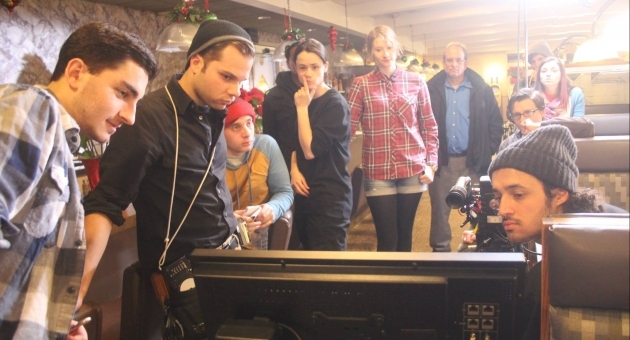 Photo courtesy of Jim Del Brocco
Students in the Department of Film and Media Arts' yearlong Senior Projects class must write a script and a director's statement on the importance of making their project—just to get in to the class.
In another example of Temple emphasizing real-world readiness, the 13 seniors in this year's selective capstone course will leave with a short film they oversaw every step of the way, from dreaming up a concept and casting actors to shooting and editing the film and distributing the final product.
Throughout the course, Senior Projects students can collaborate with peers in other classes and network with industry professionals on subjects ranging from crowdfunding (thanks to a guest lecture by a Kickstarter representative) to securing locations to film (with guidance from the Greater Philadelphia Film Office).
Assistant Professor Lauren Wolkstein, who co-teaches the course with adjunct faculty member David Romberg, TYL '07, TFM '14, split the fall semester into thirds: script development and revisions; pre-visualization, such as floor planning and shot lists; and preproduction, including securing a cast and a crew and finalizing logistics for filming.
Most students shot their films during winter break or are wrapping up before moving on to postproduction this semester, including editing, sound mixing and designing, color correction, and distribution. All of the student films are being prepared for entry into the Diamond Screen Film Festival, which returns to Main Campus this year.
"For a lot of them, it's the first time they're making a full short film with a script they wrote, which they could have been working on for several years," said Wolkstein, whose short films have won a variety of accolades, including Best Narrative Short at South by Southwest (SXSW). "It's a really immersive classroom environment, and that's how filmmaking should be. The classroom feels very nurturing among the students, and it has been a pleasure to watch their growth."
Student Jim Del Brocco regarded Wolkstein as one of his favorite filmmakers before he even knew she'd be teaching the course.
"I know I'm at a certain stage, but I also know that I can get to where she is," Del Brocco said. "Seeing the trajectory of her work made it easier to understand." 
"It's great having someone who's accomplished with shorts, who knows what makes a film good and winnable in a festival."
Del Brocco's film, Love & Other Mental Illnesses, is about a young man and woman in group therapy who run away together to complete a list of romantic comedy clichés. His goal for the film: Getting it into SXSW. Already, Del Brocco has won Indiewire's Project of the Week, and Love & Other Mental Illnesses will soon compete for public votes in the website's Project of the Month contest, which carries the prize of a creative consultation with Tribeca Film Institute.
Senior Gabriel Pozos, a San Diego native who plans to return to California after graduation to pursue film directing, is making a science fiction short titled City of Wolves.
Pozos said that most rewarding aspect of the course is the feeling of community in the class, where students believe in and help with one another's projects. That's especially helpful when they're focusing on every detail of a production, such as shooting schedules and locations, catering, transportation, and even how many hand warmers to have for the cast and the crew, who are filming outdoors in winter.
"Senior Projects is the one big capstone class where you've put everything you learned to the test, make something more ambitious than you've ever done, put it out there and start building your name," Pozos said. "Film is very entrepreneurial. It's also scary because filming your own project takes confidence. But it's good to have that accountability. It shows you are dedicated and you'll create what you set out to do."
Film and Media Arts will institute a bachelor of fine arts (BFA) degree in the fall. The culmination of its intensive, arts-based curriculum will be a two-semester directing sequence modeled after Senior Projects.