Alumni filmmakers highlight local football team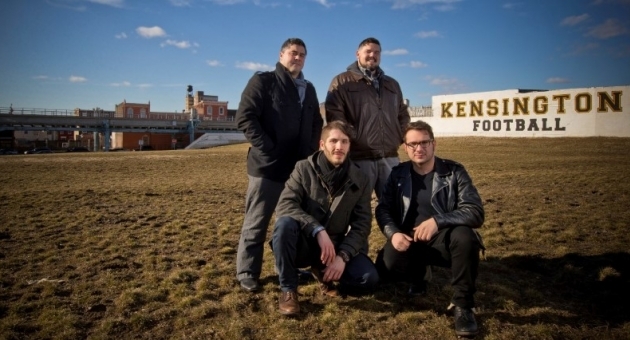 Sometimes the stories you uncover close to home take you a long way.
Inspired by the idea of hyper-local media, a new trend in reporting that focuses on community news, Max Pulcini, SMC '13, decided to stay local. Before graduating he took a job as a sports reporter for The Spirit of the River Wards, a newspaper based in the Fishtown section of Philadelphia.
His experience as a student journalist prepared him to dig deep when reporting, but he had no idea that his first assignment would turn into something larger than a single newspaper story.
What Pulcini thought was going to be a quick interview with Fishtown native Ellwood Erb turned into a two-hour conversation about Erb's goal to inspire a community through sports. Erb serves as assistant coach of the Tigers, the first-ever football team serving high school students in Philadelphia's Kensington neighborhood.
"He started this program with zero backing from the city or the school district," Pulcini said. "That's when I realized that this story was more than a profile piece."
After meeting with Erb, Pulcini called up his former classmate, Matthew Albasi, SMC '13, and the next day the pair started working on what would become their first documentary.
Rise of the Tigers, produced and directed by Pulcini and Albasi, co-founders of Downhill Productions, explores how a football team influenced the young men of Kensington who played for it and brought a neighborhood together.
"It's a human story," Pulcini said. "It's a story that somebody from any part of the country can be moved by, whether they are a football fan or not. The dedication of a coach and the young men on his team is inspiring."
The film, which was shot in 2012, follows the team during its second year.
Kensington has a reputation for drugs, crime and poverty. Members of the football team practice after school on a field covered with rocks, broken glass and other debris. But the quality of the turf doesn't deter them; they stay on the field for hours, running plays and perfecting their game.
"Kids from Kensington are fighters," said Albasi. "And that can come across in negative ways and positive ways. But playing football encourages them to stay in school, keep up their grades and gives them an alternative to getting caught up in street life."
"It's difficult to live in Kensington," said Matthew Sanasac Jr., a recent graduate of Kensington High School and former captain of the Tigers. "There's a lot of violence, drugs...a lot that can take you off the right path. I worked really hard to avoid all that. When I got involved with football, that's when things swung in my direction."
Sanasac, who is now a first-year student at the University of Pennsylvania, is looking forward to watching the Kensington football team continue to work toward its goal of becoming one of the city's best.
"Having a football team changed something in our neighborhood," Sanasac said. "A lot of people were excited to hear that we finally had a football team; that excitement is something you don't really see there. Our team brought a sense of community to a place where there really wasn't one."