Tyler alumna designs Forever stamp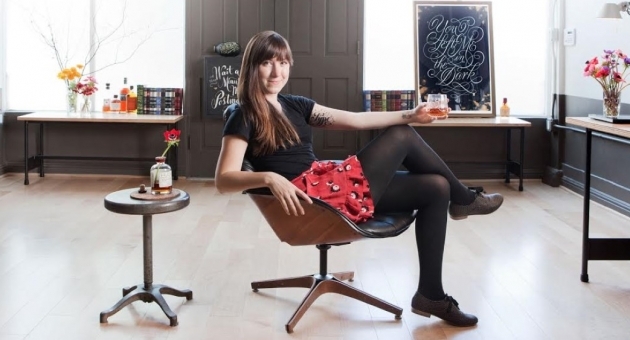 If you've seen Jessica Hische's design of the 2015 Love: Forever Hearts stamps once, you've seen it 200 million times.
That's how many stamps the United States Postal Service issued of her work, which features lacy lettering in the shape of a heart that spells the word "forever." One version of the design highlights red lettering on a white background; the other is reversed. The U.S. Postal Service (USPS) typically prints 40 million to 60 million commemorative stamps, but spokesman Mark Saunders said the quantity was increased because the USPS expects the stamps to be "extremely popular."
Hische, TYL '06, created the lettering that forms the heart, first drawing her design by hand and then finishing the stamp art digitally. Hische's projects for the U.S. Postal Service also include Sealed With Love in 2013 and Love Ribbons in 2012.
A native of Hazleton, Pennsylvania, Hische lives in San Francisco and has been a freelance designer since 2009. Her impressive client list includes The New York Times, Tiffany & Co., Target, Nike and director Wes Anderson, for whom she created the title design and credits for the 2012 film Moonrise Kingdom.
She described her artistic style in an interview with the USPS to announce the unveiling of the latest stamp design.
"A friend of mine described it once as 'equal parts design, typography, illustration, brown sugar, and heavy cream,'" she said. "I create letterform-focused artwork that always has a homemade warmth to it."
 Antonio Alcalá, art director for the 2015 Forever Hearts stamps, said he approached Hische to turn his concept—a sketch of a heart shape formed by the word "forever"— into final art "because she has a prodigious talent with an ability to find a proper balance between lettering, ornamentation and imagery."
"This assignment required an artist with a deft touch," Alcalá said of Hische, who has twice been named to Forbes magazine's 30 Under 30 for art and style. "Too much emphasis on the heart, and the word "forever" would be lost. Too much emphasis on the text, and the love message would fade. Jessica has a body of work that serves as a testament to her success."