Students design tiny house for Temple garden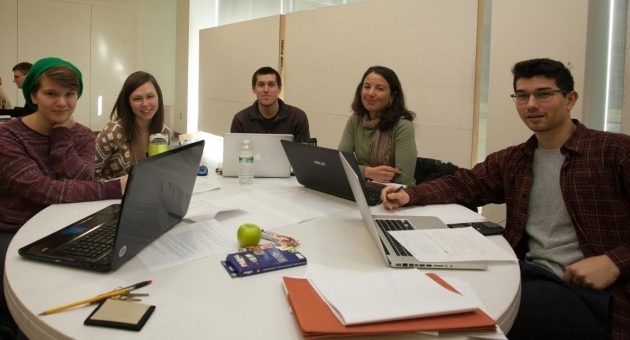 Courtesy of the Office of Sustainability
In the Office of Sustainability's recent Student Design Charrette, the stakes were high. And the competition specifications were so, so small.
The one-day contest offered $1,000 to the winning team and $500 for the runner-up. Students were tasked with designing a sustainable tiny house for the student-run Temple Community Garden.
Thirty-five students representing 18 disciplines—from civil engineering to neuroscience—were divided into teams of five and challenged to create the tiny house, a portable structure not to exceed 120 square feet. At that size, it would not require city permits to build. Temple Community Garden (TCG) also provided a wish list for the tiny house: a mini greenhouse, a composting toilet, solar power and meeting and storage spaces.
TCG operates two gardens near Main Campus: its main vegetable garden at Broad and Diamond streets and the Sonia Sanchez flower garden at Diamond and Carlisle. The main garden has a shed and a trailer for storage, but they are not suitable for meetings or events, hence the desire for a tiny house.
Student teams spent Saturday, Jan. 31, designing concepts and creating deliverables of a short video and a comprehensive report with elements ranging from site renderings and floor plans to cost estimates.
Held at the Department of Architecture, the charrette included faculty facilitators—two from architecture and another from landscape architecture—as well as an energy expert and a local artist who provided feedback on designs. A multidisciplinary panel of judges selected winners, announced earlier this month.
"Getting out of your comfort zone is really healthy in general, and especially in a competition where it's bringing together different disciplines, you're going to learn a lot more that you can bring back to your own major," said Peter Usilton, Class of 2015, an environmental studies major and member of the second-place team. "That definitely was the case for me."
The first-place team created a multilevel design with access to a rooftop greenhouse and a mezzanine platform for interior garden space. It includes a photovoltaic system to convert solar to electric energy (with enough output to simultaneously charge 28 iPhones) and a pump for heating and cooling. It also calls for two composting systems.
Katherine Switala Elmhurst, program manager for Temple's Office of Sustainability, said the intent is to work with the winning team and TCG to construct the tiny house.
"If this gets built, which I truly hope it does, it can become an experimental study site," said charrette advisor Sally Harrison, associate professor of architecture. "'Did that work the way we thought it would? Let's try putting more glass here or putting another window there.' It will be an ongoing learning process for the students involved."
Temple Community Garden President Sandy Vogel, Class of 2017, hopes the project can start this summer.
"We would love to start construction on this tomorrow if we could," she said. "That's how pumped we are for this design."