Temple University officially debuts renovated Center City campus
$2.75 million project at 1515 Market St. includes new bookstore and cafe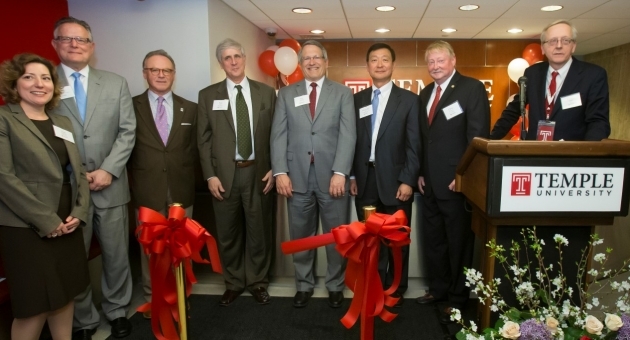 Temple leaders hosted a ribbon-cutting ceremony Tuesday to formally debut a new café and bookstore managed by Barnes & Noble and serving Starbucks coffee. The additions are part of a $2.75 million renovation project that enhances the Temple University Center City (TUCC) campus and complements the new Dilworth Park at Philadelphia's City Hall.
"Our mission is very clear: We're committed to providing talented and motivated students from all backgrounds with access to affordable, excellent college degrees," President Neil D. Theobald said. "And our newly renovated TUCC campus provides a wide variety of students with access to some of the top academic programs in the country."
Improvements to the Center City campus include a wider and more inviting lobby with digital displays; a new glass and steel canopy; new exterior signage; and painting of all public areas in the 130,000-square-foot Center City campus at 1515 Market St., just west of City Hall.
The new café and bookstore, which are open to the public, offer a variety of food and drinks, textbooks, school supplies, and Temple-branded merchandise.
In addition to the exterior and first-floor renovations, Temple's School of Media and Communication updated technology in its Multimedia Urban Reporting Lab, and the Fox School of Business enhanced its MBA student lounge, created eight breakout rooms and constructed a new Collaborative Learning Studio.
The Center City campus will also be the new home for the Pennsylvania Innocence Project, a collaboration between the Beasley School of Law and Philadelphia's legal community.
Temple has had a Center City campus since 1973 and has been at its current location since 2001. TUCC features 56 classrooms, 13 music practice rooms, a student technology center, a dance studio and more. The Center City campus currently enrolls 2,875 credit-seeking students and more than 2,500 noncredit students.
Provost Hai-Lung Dai noted that Temple's commitment to educating working professionals dates back to the university's founding. Today TUCC is a destination in Center City for adult and continuing education programs. The Center City campus offers various undergraduate, graduate and continuing education programs, such as the Real Estate Institute and the Osher Lifelong Learning Institute.  
"This tradition continues with President Theobald's commitment to societally relevant education and at Temple's Center City campus," Dai said.
Speakers at the ribbon cutting also included William E. Parshall, TUCC's director; Chris Peterson, vice president of stores for Barnes & Noble College; and Paul R. Levy, president and CEO of the Center City District.