Next stop: Lilly Pulitzer
Courtney Spencer: BA, graphic and interactive design, Tyler School of Art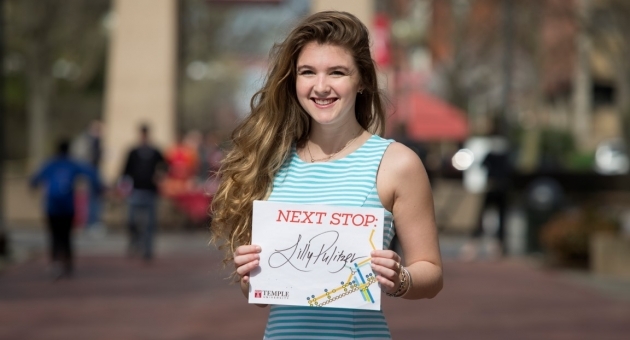 Courtney Spencer has been inspired by the Tyler School of Art since before she was accepted. During high school in Doylestown, Pennsylvania, her art teacher, a Tyler alumnus, introduced Spencer to the foundations of graphic design and encouraged her to apply to Temple.
When the application process required interviews with three different Tyler instructors, she knew the program would be rigorous.
Her class in freshman composition with Thomas Vance, professor of painting, drove Spencer to prepare herself for the real world by thinking like a designer as well as an artist. "Once I brought him a painting and I was struggling with details, and he wiped it out with a towel and told me to start again," she remembered. "He said, 'Look at the overall layout this time,' so I did. It was my first big lesson on the essence of design."
The individual attention Spencer received at Tyler provided her the tools to succeed in the design field; Temple's urban location gave her opportunities to prove her excellence at area design firms.
Abby Guido, her first graphic design professor, hired Spencer as an intern at her firm Abby Ryan Design and later referred her for a second internship at Aardvark Brigade, an agency based in New Jersey. "Abby is always guiding students to get and stay ahead while making the right decisions," Spencer said.
Extensive class time with Tyler graphic and interactive design faculty members, including Professor Paul Sheriff and Professor Scott Laserow, made it possible for Spencer to find her niche as a professional designer. "I was learning from some real pros the whole time, learning how to see the bigger picture and design with the client in mind," she said.
Spencer's work ethic and eye for design so impressed her professors that they connected her with a third internship—this time at Lilly Pulitzer, a trendy clothing designer based just outside Philadelphia.
When her internship concludes with her graduation, Spencer will start work as a junior graphic designer at Lilly Pulitzer, her next stop on a promising career in design.
"It's a brand I admired growing up, so this is especially meaningful," she said.
- Michael Mastroianni