Next Stop: Teach for America, Chicago
Arthur J. Dennis, BSEd, secondary education in English, College of Education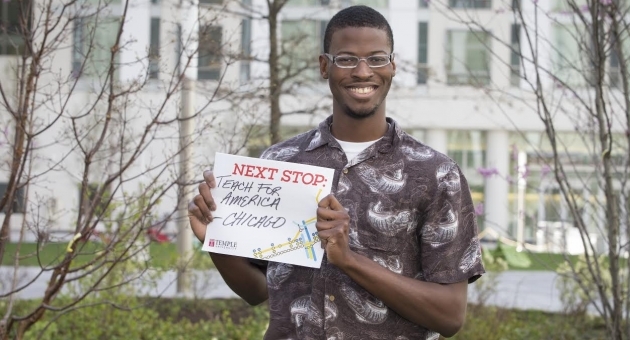 While growing up in Brooklyn, New York, Arthur Dennis aspired to a career that would help improve opportunities for urban students. But it wasn't until he got to Temple that he realized he had a passion for teaching.
"I really wanted to do something to help build self-esteem in children and improve society," he said. "I figured teaching was the best road."
During his freshman year, he volunteered with the Temple University Community Service Association (TUSCA), which allowed him to combine his love for education and for community service by volunteering with nonprofits across North Philadelphia.
One of his favorite posts was tutoring students at the Bright Hope Baptist Church after-school program. So when program organizers threatened to close tutoring sessions because of low volunteer numbers, Dennis took matters into his own hands.
Despite a full course load that included Honors classes, Dennis handled the management of the program, recruited more tutors, reframed the curriculum and worked to inspire interest in volunteerism across campus. Initially, the opportunity to tutor had only been offered to members of TUSCA. When Dennis opened up the opportunity for Temple students to sign up as volunteers, the response was overwhelming.
"We found more tutors for the program than we could take," he said. "I was blown away by the number of students who were interested in volunteering. Our information sessions were so full that we had to turn a few people away."
During the program, Dennis and his staff of 30 volunteers offered assistance with homework assignments to students, who ranged from kindergarten to eighth grade, from nearby Dunbar and Duckrey elementary schools.
Having a supportive tutor and a safe place to spend time after school is important for young students, Dennis said.
"Sometimes all students need is to know that someone is consistently supporting their success," said Dennis. "I've watched a lot of young students come out of their shells and improve their grades because they participated in our tutoring program."
He recalls a second-grade student who was having trouble with her spelling words. As soon as she came into the tutoring room, she'd hide in a corner and refuse to participate. Dennis worked closely with her, and soon she had the confidence and the skill set to earn a high grade in reading and spelling.
"Arthur's passion for education is surpassed by his willingness to serve," said Andrea D. Swan, SMC '98, CLA '11, community and neighborhood affairs director in Temple's Office of Community Relations. "I was pleased when I learned he pursued teaching as a profession. Arthur is going to make a big difference in the lives of his students in the years to come."
Next year, Dennis will join Teach for America. He's been assigned to teach English to high school students in Chicago.