Tyler program spurs alumni/student collaboration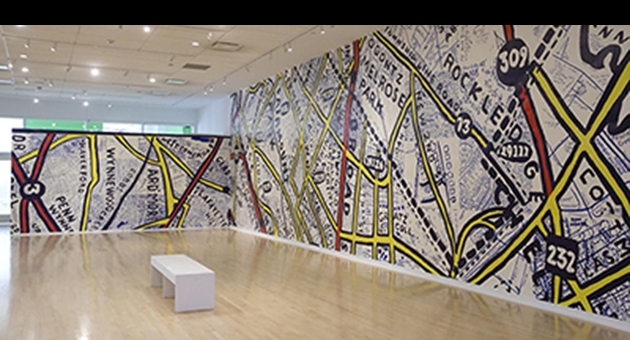 If you have seen a Tiffany & Co. or Citibank logo, then you're familiar with the work of Paula Scher, TYL '70. Tyler School of Art students got to know Scher in person this past school year when they co-created an immersive map of Philadelphia with the innovative graphic designer.
In addition to building brands as a principal in the New York office of the international design consultancy Pentagram, Scher uses her background in graphic design, fine arts and architecture to create artistic maps that often fill an entire gallery space and serve as social commentary.
Her work is represented in the permanent collections of the Museum of Modern Art and the Cooper Hewitt, Smithsonian Design Museum in New York; the Philadelphia Museum of Art; the Library of Congress in Washington, D.C.; the Victoria and Albert Museum in London; the Museum für Gestaltung Zürich; and the Bibliothèque nationale de France and the Centre Georges Pompidou in Paris. 
For her achievements as both a graphic designer and visual artist, she was invited back to Temple this year to take part in Tyler's Distinguished Alumni Mentoring Program. Sponsored by the Office of the Dean of the Tyler School of Art, the program was designed to foster continuing relationships between Tyler alumni who are well-established in their careers and recent graduates and students.
During the 2014–2015 school year, Scher worked closely with Keith Hartwig, TYL '11, an adjunct architecture professor in the Center for the Arts, and more than 100 Tyler students.
The result is Paula Scher and Keith Hartwig: Philadelphia Explained. The exhibit features an enormous bird's-eye view of Philadelphia that layers Scher's unique aesthetic with those of Tyler students, each of whom painted an individual portion of the map, and a full installation by Hartwig based on Philadelphia spaces.
"Having an internationally known artist like Scher come back to campus to work with our students represents an important opportunity for Tyler," said Robert Blackson, director of exhibitions and public programing at Temple Contemporary. "Working with Scher allows the students to gain valuable knowledge of her experiences as a student and a professional artist."
Scher credits the work of her father, an inventor, cartographer and photographer, for having an enormous influence on her aesthetic.
"My father invented a device that corrects the distortions of aerial photography," Scher told a group of Tyler students at a recent lecture. "Not only did his work have a monumental impact on shaping my artistic practice, his invention helped develop the technology that drives modern GPS systems."
Complementing Scher's work, Hartwig's project portrays how three Philadelphians connect with their environment through social interactions and memory.
The exhibit will be on display at Temple Contemporary May 8 through July 17.