Diamond Awards honor exceptional undergraduates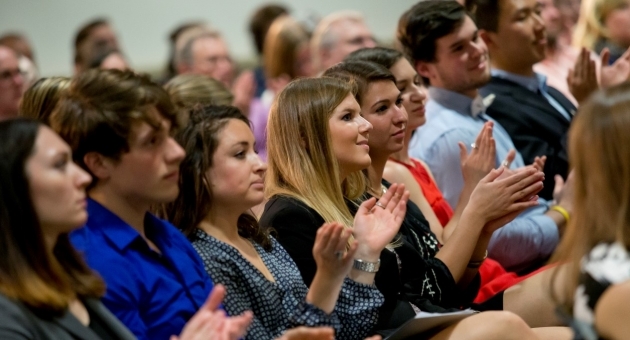 Temple University's Office of Student Affairs presented its annual Diamond Awards to 24 graduating students last month. The highest honor given by Student Affairs to undergraduate students, the Diamond Award celebrates those who demonstrate excellence in leadership, academic performance, service to Temple and dedication to the community.
"These students represent simply the best and the brightest," said Theresa A. Powell, vice president for student affairs, as she opened the ceremony. "We want everyone to know about the diamonds in our community, because we have plenty of them."
The honorees included leaders of several on-campus organizations as well as national honor societies and service projects. Many students had distinguished themselves by volunteering in communities in Philadelphia and around the world.
"The Diamond Awards feel affirming," said Julie Seidman, a communication studies and Russian double major in the School of Media and Communication (SMC) and one of the award recipients. "I know that I worked hard, but to have that work recognized makes me feel like I succeeded in making the most out of that time." Seidman studied abroad at the International University of Moscow before admission to the Diamond Peer Teacher program, which helps undergraduates develop course curricula and teaching skills.
Three members of the Temple community presented this year's awards: retired U.S. Army Col. James S. White, a Temple trustee; Peter Jones, senior vice provost for Undergraduate Studies; and Fran Dunphy, coach of the Temple men's basketball team.
"This award means that an international student like me can achieve success at Temple," said Richard (Bokun) Li, a media studies and production major in SMC, upon receiving his Diamond Award. "I feel like this is just a starting point." Li, who came to Temple from China, was recognized for creating WoCrazy, an online resource for international students.
View the complete list of winners.
- Michael Mastroianni