Philadelphia's first Confucius Institute launched at Temple
More Chinese language courses, new major, cultural programs coming soon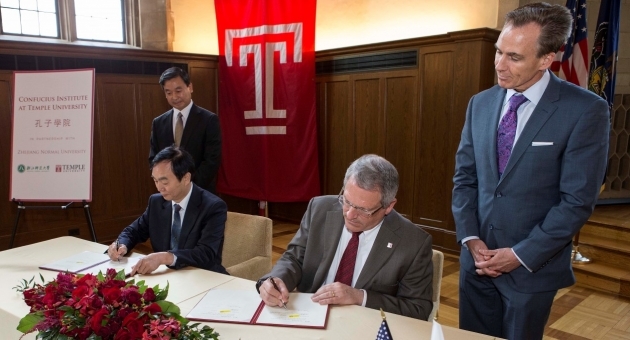 As a part of Temple University's ongoing commitment to international education, the university is collaborating with China's Zhejiang Normal University (ZJNU) to launch the Confucius Institute at Temple University. The center for the teaching of Chinese language and culture is the first of its kind in greater Philadelphia.
Temple leaders and a delegation from China celebrated the establishment of the Confucius Institute at Temple on Monday at a signing ceremony in Sullivan Hall and a ribbon cutting on the third floor of Anderson Hall in Temple's College of Liberal Arts, where the institute will be based. Pennsylvania Lt. Gov. and Temple Trustee Michael J. Stack III and representatives of the Consulate General of China in New York also attended the ceremonies.
Named for the revered Chinese teacher and philosopher, Confucius, the institute at Temple is one of hundreds worldwide and the 106th in the U.S.
"We are delighted that a spirit of friendship and cooperation between our two nations is bringing a Confucius Institute to Temple University," said Temple President Neil D. Theobald, whose meeting in Beijing last November with Xu Lin, director general of Hanban (China's Office of Chinese Language Council International), and Temple Provost Hai-Lung Dai led to the institute's opening.
"For our students, for business leaders and for the greater community, an important part of being prepared for today's globalized world is an understanding of China's vibrant language and culture," he said.
Hanban and Temple will provide matched funding to support two new full-time Chinese language instructors—Temple currently has only three—as well as textbooks, materials and cultural programming.
"Starting in 2016, we will launch a Chinese language major, something Temple does not currently offer," said Louis Mangione, associate professor in Temple's Department of Asian and Middle-Eastern Languages and Studies and the director of the Confucius Institute at Temple.
In addition to credit-bearing Chinese language courses, Mangione said the Confucius Institute will offer cultural programming, including programs on Chinese music, theater, culinary practices and more.
Once Temple's Chinese major is established, the institute will contribute to programs to train Chinese language instructors. Temple's College of Education has plans to establish a certification program for K–12 Chinese language teachers.
The Confucius Institute at Temple will be led by a pair of directors, one from each of the cooperating institutions: Mangione and Liren (Benjamin) Zeng of ZJNU's College of Foreign Language. Elvis Wagner of Temple's College of Education will serve as associate director.
The curriculum for all credit-bearing courses will be determined by faculty in Temple's Department of Asian and Middle-Eastern Languages and Studies, and ZJNU instructors at Temple will share the same academic freedoms and rights as Temple instructors.
The partnership between the two universities is a natural extension of Mangione's longstanding relationship with ZJNU. A member of the Temple faculty since 1985, Mangione has traveled to China 17 of the past 18 years to teach courses in language education and applied linguistics at ZJNU.
ZJNU, a state university, was established in 1956 as Hangzou Teachers Associate College. Located in the city of Jinhua in Zhejiang Province, ZJNU is home to 28,000 students in 19 colleges, 65 undergraduate programs, three doctoral programs, 23 master's programs, 11 professional master's programs, six university-level research institutes and more than 100 college-level research institutes. ZJNU is a Project 211 institution, a designation shared by China's top universities.
"Through the close collaboration between Temple and Zhejiang Normal University, I believe that the Confucius Institute at Temple will become an important platform for learning the Chinese language and culture in Philadelphia and the United States," said Chen Dexi, chair of ZJNU's University Council and head of the Chinese delegation at Monday's ceremony. "It will definitely promote cultural diversity and enhance the mutual trust and friendship between the United States and China."
Temple's other partnerships and collaborations with Chinese universities include the Beasley School of Law's pioneering Rule of Law LLM program with Tsinghua University that has been training China's top lawyers, judges, prosecutors and others for 15 years, as well as dual-degree and student and faculty exchange agreements with China Pharmaceutical University, Nankai University, Sichuan University, the University of Science and Technology of China, and Xiamen University, among many others.