Temple economist testifies before Senate on student debt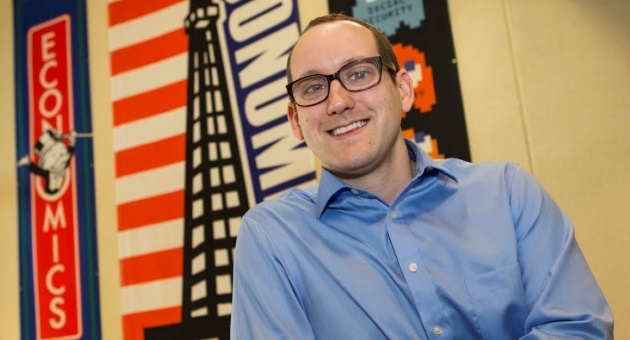 On May 20, Douglas Webber, an assistant professor in the Department of Economics in Temple University's College of Liberal Arts, testified before the United States Senate Committee on Health, Education, Labor and Pensions. Webber's testimony was part of a full-committee hearing on Reauthorizing the Higher Education Act: Exploring Institutional Risk-sharing.
With an increasing number of college students and graduates defaulting on student loans, the committee is exploring whether colleges and universities should share in the risk of federal student loans. Financial incentives might encourage colleges to address factors related to student debt such as overborrowing, time to degree completion, graduation rates and the teaching of skills relevant to the labor market. For example, the Higher Education Act could mandate penalties for colleges and universities that had many past students default on their loans.
An expert in labor economics and the economics of higher education, Webber shared recent research on the possible consequences (such as increased tuition) of adding penalties and incentives for colleges to the Higher Education Act. Webber's conclusion: Colleges would be unlikely to raise tuition significantly in response to such penalties.
"This is an important subject," said Committee Chairman Sen. Lamar Alexander of Tennessee as he thanked Webber for his testimony. "We need to be careful, because we're talking about such large amounts of money and so many individuals."
You can watch a video of the hearing here (Webber's testimony begins at 1:04). Sen. Bob Casey of Pennsylvania, who introduced Webber, acknowledged Temple President Neil D. Theobald and his innovative Fly in 4 program, which aims to reduce student debt by encouraging Temple students to graduate in four years. Webber's description of Fly in 4, which he says "has the potential to be a model program for a lot of other universities," begins at 1:37.
For Webber, traveling to Capitol Hill to testify before the Senate was a dream come true—both as a citizen and as a scholar.
"As someone who has watched and rewatched The West Wing more times than I care to mention, it was a thrill; and as a researcher who strives to do policy-relevant research, it was really an honor," he said. "It was something I never imagined would happen, certainly not this early in my career."
Webber, who was interviewed by The Chronicle of Higher Education last summer on the value of a college degree, adapted his testimony into an opinion piece that was published by The Chronicle.