Landscape work begins on Liacouras Walk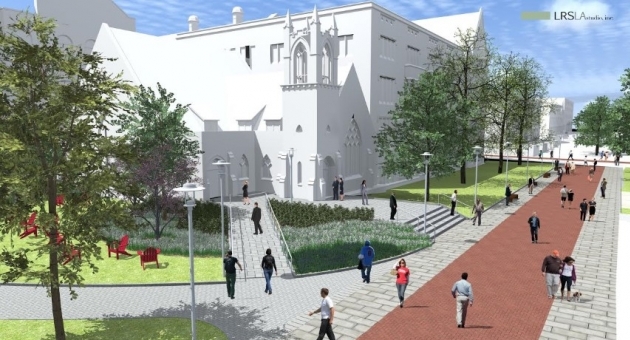 Courtesy of LRSLA studio, inc.
Work is underway on the portion of Liacouras Walk between Polett Walk and Montgomery Avenue to beautify the area, provide more social space and create a clearer pathway to Wachman Hall.
The Liacouras Walk and Wachman Plaza project will add more green space and new paving in the area surrounded by Alter Hall, Speakman Hall, 1810 Liacouras Walk, Shusterman Hall and Wachman Hall, which is also undergoing renovation.
Pedestrian traffic on Liacouras Walk will be detoured around the site until completion. Work is expected to continue into the fall.
In line with Temple's goals for increasing environmental sustainability and reducing costs associated with stormwater runoff, the new pavers will be permeable to help soak up rainfall. This is in keeping with ongoing collaborations with the Philadelphia Water Department to address the important regional issue of stormwater management. The project also features new standard LED pedestrian lighting that will save energy and further improve security.
The project is the first under the university's landscape master plan, Verdant Temple, which outlines a comprehensive strategy for Temple's open spaces, streets and walkways, lighting, signage, and other components that are integral to the campus experience.
Developed in conjunction with the Visualize Temple campus plan, Verdant Temple addresses the incremental evolution of Main Campus by establishing guidelines for the design, implementation and management of campuswide landscape projects.
Another ongoing project on Main Campus is the demolition of the unusable Triangle Apartments building at Broad and Norris streets. Temple will plant grass and install lighting and seating on the property.