Temple grad's artwork featured in national Parkinson's calendar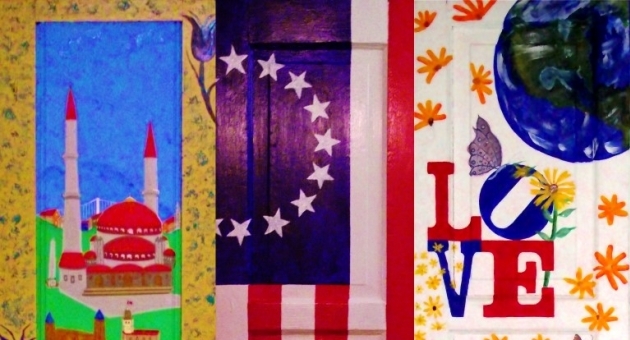 John Creveling, EDU '93, is using his paintbrush to fight Parkinson's disease. 
The Temple alumnus is one of 13 artists whose artwork was selected to appear in the Parkinson's Disease Foundation's (PDF) 2015 Creativity and Parkinson's Calendar. PDF is a leading national presence in Parkinson's disease research, education and public advocacy. Creveling's painted shutters appear in PDF's nationally distributed calendar as the featured artwork for the month of July.
Creveling is a career and leadership consultant and veteran of the US Army. Shortly after he was diagnosed with Parkinson's in 2009, he began to paint. He says his art became "a part of who I am" and serves as a therapeutic outlet.
Parkinson's disease is a progressive neurological disorder that affects nearly one million people in the US. Although promising research is being conducted, there is currently no cure.
"There are times when I'm painting that I feel like I'm in a sacred place, where I forget about Parkinson's disease," says Creveling, who also enjoys photography and writing. "I'm honored to be among such talented individuals in PDF's Creativity and Parkinson's Calendar. Creativity gives the millions of us with Parkinson's throughout the world a voice and acknowledges we are more than our PD."
He soon found he was not alone in this sentiment.
More than 400 other people with Parkinson's have shared their artwork and experiences with PDF's Creativity and Parkinson's Project, which explores, supports and encourages the therapeutic value of creativity in Parkinson's. Many people with Parkinson's report that creative activities—such as painting, drawing, playing instruments or singing—ease their symptoms. Creveling's painted shutters of an American flag was chosen among these individuals to be featured in PDF's annual print calendar, which is distributed nationwide to nearly 20,000 people.
PDF President Robin Elliott said, "PDF is proud to showcase Creveling's artwork in the calendar. His work serves as a source of hope and inspiration to the nearly one million others in the US living with Parkinson's disease."