College of Education awarded nearly $1 million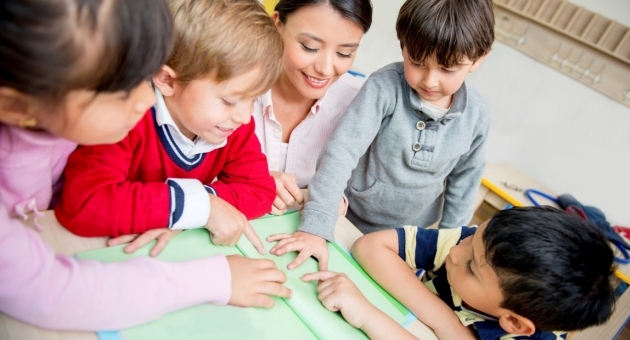 Courtesy of iStock images
The College of Education's Early Childhood Education and Urban Education programs received grants totaling nearly $1 million. Awarded by the William Penn Foundation through its Closing the Achievement Gap Initiative, the grants will be used for two new research projects.
The foundation designated $500,000 for the Text-to-Talk Project: Connecting Schools and Families over a three-year period and $476,497 for Teacher Preparation and Quality: The Role of Pre-service Experiences in Early Classroom Performance.
Barbara A. Wasik, professor and PNC Chair in Early Childhood Education, and Annemarie H. Hindman, associate professor of educational psychology, will lead the Text-to-Talk Project, which seeks to evaluate if texting can be used as a mechanism to support language development of children in high-poverty areas through parent-teacher collaboration. As part of the study, teachers will create and send frequent text messages to families, to determine whether these messages help improve children's word learning.
"Families want to support their children's learning, and texting is a way for teachers and families to communicate and to help develop children's vocabulary," Wasik said.
This is the first research project to explore whether texting can extend the school-home connection by specifically supporting vocabulary development amongst children who may benefit the most. Texting is becoming increasingly popular as a form of school-home communication, and several programs have identified positive results for families.
There is considerable documented research highlighting the vocabulary gap between children in poverty and their more advantaged peers, as well as the long-term consequences of this gap for reading and school success. Text-to-Talk is intended to be a cost-effective and time-efficient way to support learning about classroom curriculum at home.
Will Jordan, associate professor of urban education, and Peshe Kuriloff, professor of teaching and learning, will lead Teacher Preparation and Quality: The Role of Pre-service Experiences in Early Classroom Performance. This study seeks to explore the connection between teacher preparation, teacher quality and performance in urban school settings, and student achievement by examining the relationship between preservice training and subsequent performance on the job.
There is much debate nationally and locally about how teacher quality and assessment relates to student performance and success. "Since lower performing schools in Philadelphia tend to have concentrations of newer and inexperienced teachers, strengthening teacher preparation programs might influence their ability to raise achievement," said Jordan.
"Research to improve teacher quality can have a greater impact on student learning than any other factor that can be affected by good policymaking," he added. "Yet, supporting good teachers continues to be one of the most challenging goals of urban education reform."
The College of Education will collaborate with the School District of Philadelphia to develop and evaluate both projects. For Teacher Preparation and Quality, the college will also work with the Teacher Education Alliance, a group of 20 local colleges and universities who provide teacher education and have graduates teaching in Philadelphia.