Assistant professors nominated for Philly Geek Award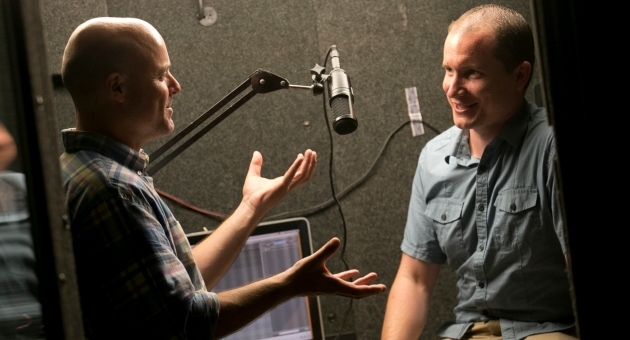 Tuesday, Aug. 18—Note: On Saturday, Aug. 15, Book Fight! won for Streaming Media Project of the Year at the 2015 Philly Geek Awards. Check out the full list of this year's winners.
When Mike Ingram decided to start his own podcast in 2012, he had no idea he'd one day be walking a red carpet like a Hollywood celebrity.
But just three years and close to 200 episodes later, Ingram and his longtime friend and colleague Tom McAllister, both assistant professors of English at Temple, will do just that when they attend the 2015 Philly Geek Awards Saturday, Aug. 15. Their podcast, Book Fight!, is one of three projects nominated for Streaming Media Project of the Year.
"This show emerged from an idea and really evolved over time," said Ingram, "so it's exciting."
The Philly Geek Awards is an annual red-carpet event that celebrates "Philly's vibrant geek community." Each year, the ceremony honors local artists, scientists and techies for their work in 13 categories—everything from gaming to social media.
Book Fight! is not a typical pedantic literary exchange. Ingram and McAllister's natural chemistry shines as they discuss literary works with wit—picture casual conversation between two professors at the local bar. It is the tone of podcasts that initially attracted Ingram to this particular form of media. "I liked how podcasts are casual and conversational," he said, "which is the overall feel I was going for."
Ingram enlisted his friend and colleague Tom McAllister as his co-host for the venture. The two not only became friends while in graduate school at the Iowa Writers Workshop at the University of Iowa, but they also share an office in Anderson Hall.
Without any formal training in broadcasting, Ingram and McAllister researched podcasting and the technology associated with it, and gained experience on the job. "We've really been learning as we go, and our quirks are part of our charm," joked McAllister.
Launching a podcast about books was the natural choice for these two literary pundits. The works selected run the gamut—from fiction to nonfiction, classic to contemporary—on a variety of topics, including science fiction, love and alcoholism ("anything we might typically read," according to Ingram). The works chosen are not only limited to books; short stories and essays are also reviewed.
Each week, the two engage their charming radio personas and record at McAllister's South Jersey home. Since its debut on April 1, 2012, Book Fight! has developed a steady following of approximately 4,000 subscribers—a number that continues to grow.
"Listeners have told us it's a nice outlet—a way to listen to literary discussions without actually taking part in a book club," Ingram said. "You don't even need to read the books to enjoy the show."
"Even if listeners disagree with us, they're getting an honest, unvarnished response to the book," McAllister added. "They really feel like they know us, and it's an intimate experience for them."
On Saturday, the duo have the opportunity to attract more attention to Book Fight! when they attend the awards ceremony at the Academy of Natural Sciences at Drexel University.
"What's great about this nomination is that the actual listeners nominated us, so we know we're making a name for us," Ingram said. "Bring it on; we're ready."
—Erica Brooke Fajge