19 facts about the Class of 2019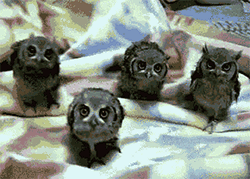 They're here! The first day of classes has arrived, and that means Temple's record-busting class of new undergraduates—freshmen and transfers—is on campus. We won't know the final stats on the Class of 2019 until early September, but here are some fun facts about the newest Owls (all numbers are based on the latest available registered student totals).
1. The projected number of freshmen in the Class of 2019 is about 4,900.
2. The number of applications Temple received to fill those freshman spots? 30,043, which destroys last year's all-time high of 27,545
3. Another Temple record: The average freshman high school GPA is 3.52.
4. And yet another Temple record (are these broken records starting to sound like a broken record?): The number of freshmen in Temple's Honors Program is 594.
5. This class is extraordinarily diverse. The number of freshmen of color is up 8 percent compared with last year; African-American freshmen are up 13 percent, and Latino freshmen are up 21 percent.
6. The projected number of transfer students is about 2,400.
7. Hello, legacies! About 250 freshmen and 117 transfers have at least one parent who's a Temple alumnus.
8. The number of freshmen mentioned on the front page of The Philadelphia Inquirer this summer? 1: Farid Elhadidy on July 14
9. Temple's variety of academic programs was the No. 1 factor that influenced a freshman's decision to attend Temple, followed by Temple's social atmosphere.
10. There are 67 counties in Pennsylvania, and 51 of them are represented among freshmen and transfers.
11. You know how many states there are, right? Our newest students hail from 43 of them, as well as the District of Columbia, Puerto Rico and the Virgin Islands.
12. You can Google how many countries there are; we can tell you there are first-year and transfer students from 55 of them.
13. The youngest registered new student is 16 years old.
14. The oldest new Owl is 66.
15. There are 20 sets of twins among freshmen and transfers.
16. Matthew (79) and Sarah (56) are the most common first names among freshmen and transfers.
17. The most commons last names? Patel (60) and Williams (40)
18. Twenty freshmen and transfers share a birthday, Aug. 25, with Temple President Neil Theobald. The same number share a birthday, Feb. 15, with Russell Conwell, Temple's founder.
19. Circle it on your calendar, Class of 2019: Your graduation date is Friday, May 10, 2019. And when it comes, remember to look at the selfie President Theobald asked you to take at Convocation last Friday.