Virtual reality might relieve symptoms of cancer treatment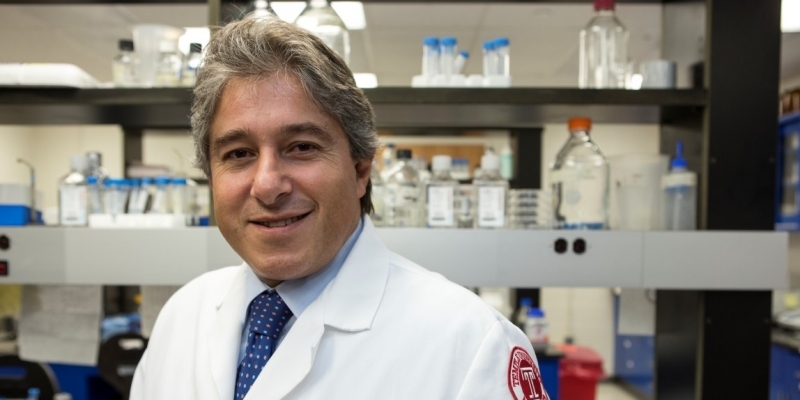 The next great frontier in improving cancer treatment might be only a few clicks away.
A new paper by Antonio Giordano, director of Sbarro Health Research Organization and professor of biology at Temple, examines the existing literature on virtual reality and its use in cancer care. All 19 studies Giordano examined show that immersing patients in virtual reality scenarios can help reduce stress in patients during treatment.
This work shows us just how critical a component stress can be in cancer and its treatment.
-- Antonio Giordano
Published in the August issue of Journal of Cellular Physiology, the paper builds on previous work conducted by Giordano and his Sbarro colleagues. Their 2012 study of virtual reality as a tool to aid weight loss found it to be effective.
"Cancer patients have psychological issues that are often overlooked," Giordano said. "They're scared about side effects and discomfort, and are sometimes depressed, and that can interfere with their ability to successfully follow a course of therapy."
The paper concludes that in all the reviewed research, "virtual reality improved patients' emotional well-being and diminished their cancer-related psychological symptoms."
Now Giordano is focusing his efforts on new research led by Andrea Chirico at the Sapienza University of Rome in Italy. His team of researchers, along with a psychologist, oncologist and designer, developed immersive graphic scenarios to help support and monitor breast cancer patients in chemotherapy. The scenarios include a tropical island or English garden in which the patients can walk around and interact with the setting. Users wear Vuzix Wrap 1200DX eyewear to view the imagery and control their avatar through a standard video game joystick. The entire program is run on a Windows laptop with a SecondLife server.
Enrolled patients may use the technology to distract themselves and relieve symptoms. "We take biological samples such as blood draws before and after treatment, so we can see how it's working at the molecular level and how the virtual reality might be helping," Giordano explains.
To date, 50 breast cancer patients are enrolled in the study, and though the results are not in yet, Giordano says the study looks promising. "So far we feel that it's having an impact, not just psychologically but physiologically, as patients are relaxing. What's even more exciting is that this work shows us just how critical a component stress can be in cancer and its treatment. When you're talking about a multifactorial disease, the data is very important."
--Elisa Ludwig
Related stories
In the Land of Poison and Fire: A Temple researcher from Naples, Italy, fights cancer in his lab and in his hometown

Temple researcher's work spotlights cancer threat in Italy