Verdant Temple establishes strategy for open space
The landscape plan will improve Temple's green spaces and wayfinding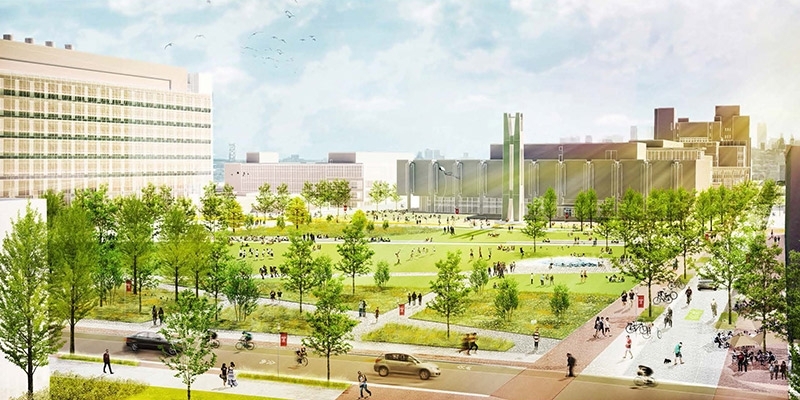 Temple University announced details of its landscape master plan,
Verdant Temple
, which charts a comprehensive strategy for the university's open spaces, streets and walkways, lighting, signage and other components that are pivotal to the campus experience.
Developed in conjunction with the
Visualize Temple campus plan
, Verdant Temple establishes overarching guidelines for the design, implementation and management of campuswide landscape projects.
"The landscape of a campus is critical in creating first impressions and lasting memories," President Neil D. Theobald said. "Verdant Temple uses the university's rich history and dynamic urban environment to create a more cohesive identity for Main Campus."
The plan focuses on five interrelated components: 
green, which emphasizes the need for additional open space, including a central quad; 
the importance of pedestrian walks, especially Liacouras and Polett walkways;
the value of campus gardens and courts that comprise public spaces; 
the use of streets in an urban campus; and 
how to use leftover spaces, or margins.
These five components—green, walks, spaces, streets and margins—are addressed with seven campuswide landscape systems: lighting, mobility, public art, social interactions, stormwater, vegetation and wayfinding.
"Our university's fabric was woven by many hands in various materials and styles," said Associate Vice President and University Architect Margaret Carney. "Verdant Temple encourages a creative yet consistent approach to Temple's landscape that will make better aesthetic and functional use of our spaces while increasing opportunities for learning and social interaction."
Verdant Temple was informed by more than two years of input from a group of Temple faculty and staff with expertise in energy, landscape architecture, sustainability and other areas. The plan encourages using the campus landscape as a teaching tool, from installing more stormwater meters to having landscape architecture students create performance measures for different elements of Verdant Temple.
Carney said using landscape materials like paving, planting and lighting with more continuity will better connect the wide variety of open spaces at Temple that are successful but appear disjointed.
The first Verdant Temple project
 is the renovation of the portion of Liacouras Walk between Polett Walk and Montgomery Avenue. It will be enhanced in part by a more inviting and visible entrance to Wachman Hall,
which has also undergone renovation
.
Pauline Hurley-Kurtz, associate professor in the Department of Landscape Architecture and Horticulture and an advisor on Verdant Temple, called the plan "a transformative proposal" that will define the public realm of Main Campus.
"The plan incorporates so many elements—stormwater management, great design, a palette of materials that will give a sense of unity to the campus—as well as a major, innovative advancement: the quad will be historic," she said.