Temple alumna brings comics and coffee shop to life
Ariell Johnson, FOX '05, pairs comic books and caffeine in her new Kensington store.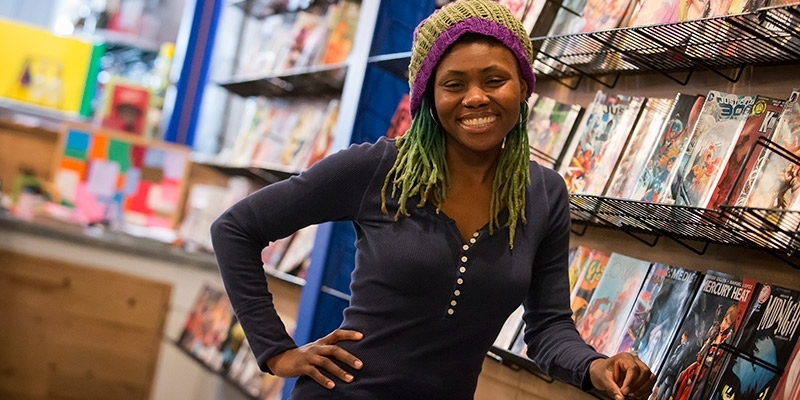 The comic book universe may sometimes seem a polarizing place: You're either Marvel or D.C. Batman or Superman. Newbie or veteran aficionado.
Ariell Johnson, FOX '05, knew the weight of the last distinction when she first mustered up the courage to approach a comic book store some years ago—not only as a rookie, but as a black woman in a community often associated with white men.
"It can be intimidating if you're not in that scene," Johnson recalled.
Since opening the Kensington shop in December, Johnson's emphasis on creating a diverse and welcoming atmosphere for "geeks" of all variations has generated considerable buzz in the city and beyond. It's a purpose Johnson hopes is reflected on the shelves, where iconic mainstream comics (think, The Invincible Iron Man) are sold alongside titles such as The Rippers by Regine Sawyer, an African American woman.
"I am the antithesis of what you think of when you think of a comic book nerd," said Johnson. "Because I myself am an outlier, I think the space is just innately more welcoming."
Comics by transgender authors and others for Spanish speakers are also expected to be sold.
"We want to be a community space—a community geek space," she added, noting tables reserved for gamers and plans to host community events and workshops.
The debut of the store marked the realization of an idea the Baltimore native first envisioned more than a decade ago while at Temple. It was then the accounting major began a weekly ritual of heading to Center City to buy a comic book at Fat Jack's Comicrypt and retreating to the since-shuttered Crimson Moon Coffee & Tea House to read. 
When Crimson Moon closed, Johnson imagined the all-in-one shop and named it Amalgam with the help of friend Corin Wilson, SMC '05. But Johnson admits it was more a pipe dream then. It took several years before Johnson decided to make the store a reality. She was in part compelled to do so after her mother died in 2011; her death compounded Johnson's loss of her father when she was 16.
"I don't want to leave this earth without feeling like I did something I was passionate about," said Johnson.
Johnson rented the Frankford Avenue space in late 2014 and said her accounting background has proven invaluable for her new venture. "I've never been more thankful for it," she said.
In addition to securing funding through a city forgivable loan program for businesses, said Johnson, she raised nearly $12,000 through a crowdfunding campaign and family and friends' contributions.
Fundraising was paired with a video that Wilson helped create to enlist potential donors—one that perhaps best displays Johnson's balance of pragmatism and passion: Her business pitch is enlivened with humor and her playful dress-up as X-Men's "Storm" and other science fiction and fantasy characters.
"It seems crazy, I know, I've heard it before," she confidently tells the camera. "But I believe it's just crazy enough to work."
Related stories: