Law scholar and advisor to Chinese government kicks off 2016 Provost Lecture Series
Zhenmin Wang, dean of Tsinghua University School of Law, visits Temple to discuss legal development in China.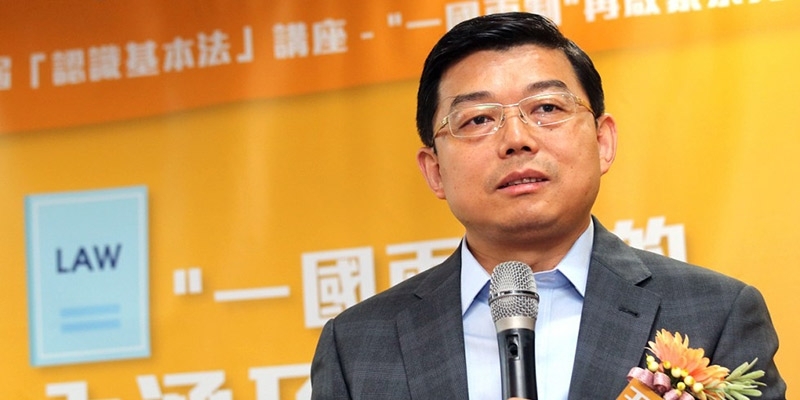 David Wong/South China Morning Post
Zhenmin Wang, dean of Tsinghua University School of Law, is visiting Temple from Beijing to discuss the rule of law in China—steps being taken to reform the legal system and establish rules for a modern economy and society—in the first Provost Lecture of 2016. Wang was a major architect of Hong Kong's Basic Law, which serves as a constitutional document, and is the newly appointed head of the legal department of China's Hong Kong Office.
A distinguished professor and expert in Chinese constitutional law and the legal and judicial reform processes, Wang has served as dean since 2008. The Tsinghua University School of Law is the host of the Temple-Tsinghua Master of Laws (LLM) program.
"It is a great honor to have Dean Wang visit Temple's Main Campus," said Provost Hai-Lung Dai. "He has played a crucial leadership role in developing legal education in China during the past 20 years. Wang has been influential in bringing recognition from the Chinese government and legal community to the LLM program for its achievements and contributions in introducing common law to China."
JoAnne Epps, dean of Temple's Beasley School of Law, also commented on the significance of Wang's lecture. "He is highly respected in the international legal education community. We are very interested in listening to his views on legal development in China."
Under Wang's leadership, the school—which opened in 1995—has become one of the best and most influential legal education institutions in China. Wang has also been instrumental in establishing the program between Tsinghua and Temple's law schools as one of the most renowned international legal cooperative programs in China. The venture has educated hundreds of Chinese legal professionals about U.S. and international legal principles and practices.
"In this collaborative program, Chinese students—many of them experienced lawyers from public and private sectors—exchange ideas with American law professors and lawyers," said Wang. "Practice-oriented courses and a rich academic curriculum contribute to making graduates analytical thinkers with high ethical standards."
Wang earned LLM and PhD degrees from the Renmin University Law School in China. He completed postgraduate research at Hong Kong University and studied constitutional law at Harvard as a Fulbright Visiting Scholar. A prolific author and accomplished researcher, Wang is actively involved with several prominent legal organizations in his country. He has also been a visiting professor at prestigious law schools in Europe, the U.S. and Australia.
His lecture, titled "Rule of Law: The China Initiatives since 2012," will be presented Thursday, Feb. 11, 2016, at 4 p.m. in the Feinstone Lounge in Sullivan Hall.

Related stories:
Philadelphia's first Confucius Institute launched at Temple
Mayor of Rome next Provost Lecture Series speaker
H. F. 'Gerry' Lenfest kicks off Provost Lecture Series
—Hedy Taub Baker