Owls win business competition
Temple entrepreneurs walked away with first and second prize at the College Pitch Philly event.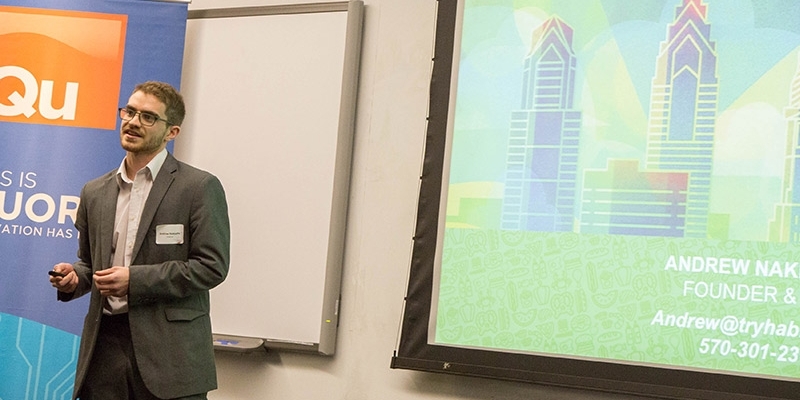 Brian Green, Campus Philly
Entrepreneurs from Temple University took home top honors at last week's College Pitch Philly competition, which is geared toward unearthing the top business concepts of undergraduates from the city's colleges and universities.
Andrew Nakkache, FOX '16, won the $7,500 top prize for Habitat, a mobile app that lets students and faculty order food, via pickup or delivery, from their favorite food trucks and restaurants around campus.
Neha Raman, a sophomore international business major in the Fox School of Business, claimed the $5,000 second prize for Rungh, a create-your-own-nail-polish system.
Nakkache and Raman competed among 33 other students or teams of undergraduates Feb. 24 in the Quorum, a space in the University Science Center in West Philadelphia. Organized by Campus Philly and the Philadelphia Regional Entrepreneurship Education Consortium, College Pitch Philly offered a pool of $15,000 in prize money for new business ventures. After making two-minute pitches in the first round, six finalists delivered five-minute pitches and conducted five-minute Q-and-As to determine the winners.
Through Nakkache's Habitat app, users order from vendors who receive messages via the app, email, fax or text. Orders are completed in 20 minutes on average and are delivered by Habitat's student-led delivery force.
"Our whole approach is in creating a top-tier user experience, from beginning to end," said Nakkache, a native of Dallas, Pennsylvania.
Habitat launched in September and has built partnerships with 21 food vendors near Main Campus, including 14 food trucks. He hopes to expand to Philadelphia's University City neighborhood by the end of this academic year and possibly to one of three East Coast markets by fall 2016.
After struggling to find her favorite shades on the retail market, Raman first developed her Rungh nail polish system as a high school student. Customers receive six nail polish bottles with a nail polish base, 18 color pigment capsules, a battery-operated mixer and disposable mixing wands. In only 60 seconds, users can create their own shades of nail polish.
Rungh is trademarked and patent-pending. It launched and made its first sales in November. The company served as the official nail polish of Philadelphia Fashion Week in February.
"My goal is to continue developing the brand," said Raman. "I'd like for consumers to associate Rungh with offering a wide range of color choices, in nail polish or even other cosmetic products as we expand."
–Christopher A. Vito
Related stories:
Temple University's entrepreneurship programs earn top 10 rankings nationally
Fox alumnus' website takes guesswork out of renting
DreamIt Ventures accelerating alumni-led businesses
New technology partnership sparks innovation and entrepreneurship