Theobald honors parents with bell in Shusterman Hall
During the dedication ceremony, the president drew attention to philanthropy, campus improvement and college access.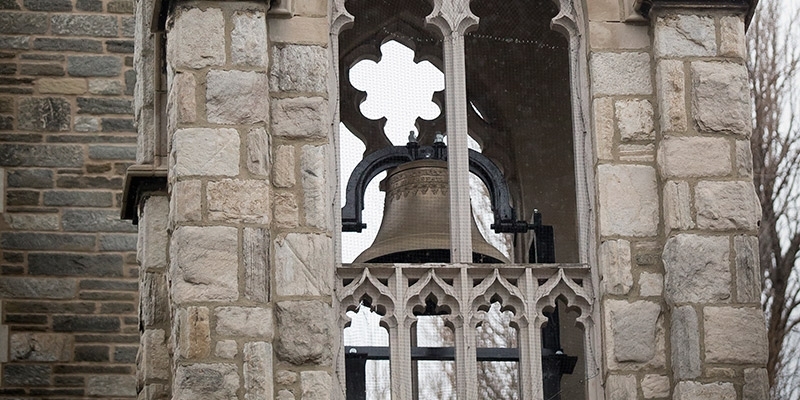 "This bell is our family's tribute to a couple we knew as parents, in-laws, and grandparents―but it's also a tribute to the generations of working-class Americans across this country who never had a chance to go to college."
So said Temple University President Neil D. Theobald earlier this week as he dedicated a bell in Shusterman Hall honoring his late parents.
"Temple University exists for modern day Agnes and Milo Theobalds―smart low- and middle-income kids who need an excellent, affordable education."
-- Temple University President Neil D. Theobald
The 1,000-pound, refurbished bell―built about 150 years ago by the Vanduzen foundry of Cincinnati―hangs in a tower on the building's south side. It will ring every 15 minutes and during important university events, adding music to a campus that lacks a functioning bell.
The bell is accompanied by a plaque installed on the building's exterior, which contains a touching inscription by Theobald's youngest daughter, Mattie. It reads: "The bell in this tower is in memory of a couple whose 63-year marriage stood the test of time. May it serve as a reminder to live life to the fullest―all 1,440 beautiful moments in each day."
The dedication ceremony was emotional for Theobald, who spoke about the experiences of his late parents, Agnes McQueen Rae Theobald and Milo Wayne Theobald. The president's remarks revealed much about his commitment to keeping Temple accessible for talented students of all backgrounds.
"Temple University exists for modern day Agnes and Milo Theobalds," the president said, "smart low- and middle-income kids who need an excellent, affordable education. Unfortunately there was no Temple University in Peoria, Illinois in the Great Depression."
Both of Theobald's parents were successful in high school, but never had the opportunity to attend college. His father was salutatorian of his class, but spent most of his career loading trucks at a Caterpillar plant. He died in 2005.
Theobald's mother raised the family's four children and later became a bank teller.
She was in a coma when her son was interviewing for the president's position at Temple in 2012. She learned he got the job just before her death.
"My mother was comatose, but when my sister leaned down and told her that I had been selected to be president of Temple University, my mom's face broke into a huge smile," Theobald said. "My sister left there about quarter to midnight, and my mother died at 12:30 a.m."
Theobald hopes his donation of the bell will inspire other Temple supporters to improve the campus and memorialize those they love.
He said he learned the importance of giving back from his parents.
"The chief sin in their home was to think of yourself first. All actions were to be judged by how they impacted others," Theobald said. "At its core, that's what philanthropy is: helping others by giving of yourself."

Watch President Theobald deliver his remarks during the dedication ceremony.

Video Production:
Gina Benigno
Related stories: 
President Theobald lays out roadmap for other universities 
Theobald makes case for Temple's value in State of University address 
Theobald and Kaiser voted Most Admired CEOs in the Philadelphia region