Alumnus to bring Temple Made business to campus
Honeygrow Founder and CEO Justin Rosenberg, FOX '09, announces plans to open a location of the fast-casual restaurant in Morgan Hall this fall.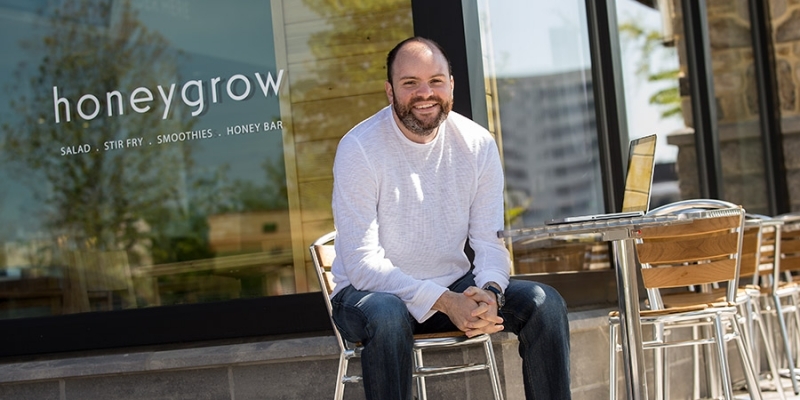 Justin Rosenberg, FOX '09, is returning to his roots.
The founder and CEO of Honeygrow, Rosenberg announced plans to open a location of his Philadelphia-based, fast-casual restaurant on Temple University's campus in the fall. The store would occupy commercial space within Morgan Hall, a residence hall located at the southeast corner of Broad Street and Cecil B. Moore Avenue.
With seven stores currently in operation and plans to open nine more by the end of 2016, Honeygrow offers fresh-to-order salads and stir-fries that are made with local, seasonal ingredients.
"Temple University is on the rise, and it's a location that I'm beyond confident will work," said Rosenberg, who earned a Global MBA at Temple. "I'm a Temple guy, I wrote a chunk of my business plan for Honeygrow at Alter Hall, and the business is very much a #TempleMade concept. This makes perfect sense."
The Temple location would feature an innovative interior design, new ordering kiosks and seating for up to 50 patrons, Rosenberg said.
I'm a Temple guy ... and the business is very much a #TempleMade concept.
-- Justin Rosenberg, FOX '09
For Rosenberg, Honeygrow's upward progression in the last 12 months has been "moving pretty quickly," he said. In June 2015, the company received $25 million in investment funding from Miller Investment Management to support further expansion of Honeygrow and updates to the company's technology platform. This spring, Rosenberg said the corporate headquarters will relocate from Center City Philadelphia to the city's Fishtown neighborhood.
"We've renovated a warehouse where we'll have 30 corporate employees to supplement the 300 employees we have in the field," he said. "That's where we'll have our commissary, where our Chef and Culinary Director David Katz will work on our sauces, dressings and beyond. There has always been a deep passion for the product—inclusive of where we are sourcing it to how we are training our staff to prepare it, care for it and work with it. Everything counts.
"For 2016, with stores opening from Washington, D.C. to the New York City metro area, I couldn't be more excited about Honeygrow's future than I am right now."
—Christopher A. Vito, SMC '07
Related stories:
Sacrifice, hard work pay off for Honeygrow founder
Temple alumna brings comics and coffee shop to life
Alumna empowers women to live without fear