Local students celebrate National Girls and Women in Sports Day at Temple
Girls from elementary and middle schools in Philadelphia participated in sports clinics hosted by Temple Athletics.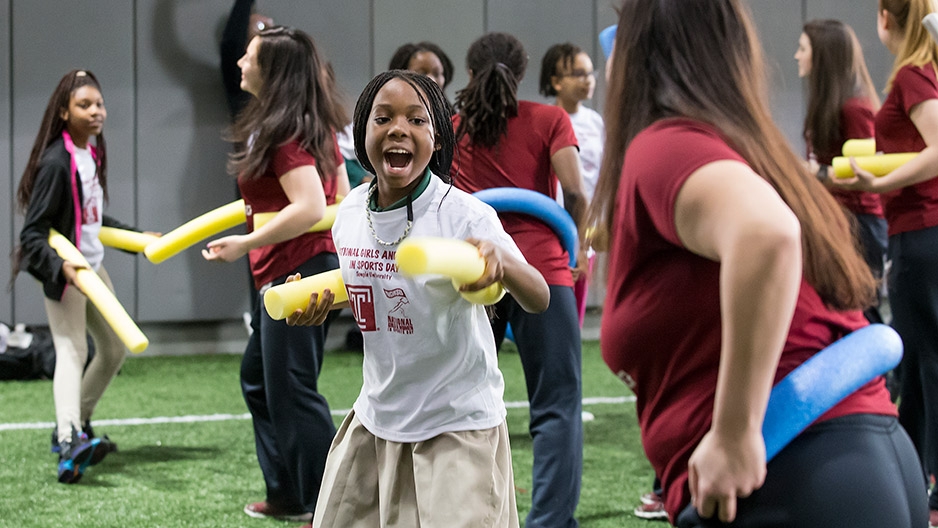 On Wednesday, April 6, student-athletes from Temple University's 19 varsity sports hosted clinics for local students in Temple's Pavilion and tennis courts to celebrate the 30th Annual National Girls and Women in Sports Day.
The girls attend nearby elementary and middle schools—including Duckrey Elementary, William H. Hunter and William McKinley— and rotated through 12 different stations staffed by representatives from Temple Athletics. They were able to try their hands at sports they might not have experienced before, such as fencing, field hockey and golf, with support from Owls.
"These girls come out here just looking for sports, and half of the sports they've never seen before," said field hockey's Maiyah Brown, Class of 2018. "They get to learn something new from what they're used to and it's just a good experience."
The event was the fourth straight hosted by Temple, and marked the first time men's teams were present, which gave the kids opportunities to try golf and football.
"I think it was a great opportunity for these teams to be able to help local kids learn a little about the sports and have some fun," said men's soccer player Matt Mahoney, Class of 2017.
The girls also received snacks, water and tips for healthy habits, among other goodies.