Next stop: Landscape architect licensure
Landscape architecture major Liam Cleary turned his experience in the Army and passion for the environment into a position with a design firm.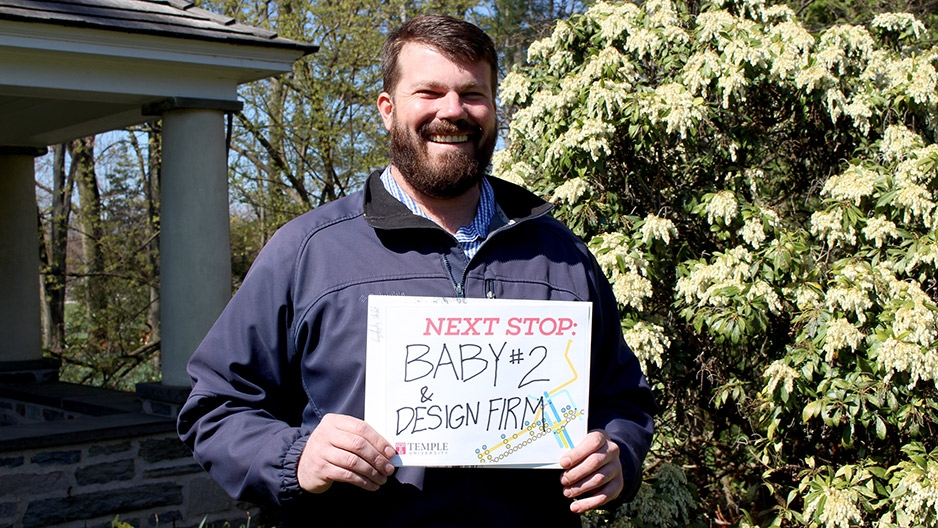 Liam Cleary, Class of 2016, served his country, and, after graduation, he'll transition into serving his community with a landscape architecture degree.
Cleary served for seven years in the U.S. Army 82nd Airborne, achieving the rank of sergeant. His time in the Army included being part of the support service response and relief efforts for Hurricane Katrina, a 16-month tour in Afghanistan and a year in Egypt.
"During my military experience, I saw a lot of the ways that the hand of man has negatively impacted the landscape," said Cleary.
Growing up on a small farm in Schwenksville, Pennsylvania, allowed Cleary to develop a special bond with the world around him. After departing the military in 2011, he took his passion for the environment to Temple's landscape architecture program.
"The Ambler Campus, with all of its gardens, has been an excellent learning environment," he said. "The fact that it is a four-year program, that there is so much value in the curriculum and that the cost of tuition at Temple is incredibly reasonable made this the right place for me to continue crafting my skills."
Cleary said Temple's support structure for veterans returning to the classroom has also been exemplary.
"From the Temple Veterans Association to the bursar's office, there is a very strong support structure here," he said. "They are constantly reaching out to see if you need anything."
According to Cleary, his landscape architecture studios have provided ample opportunity to work with real-world clients on projects "that take reality completely into account."
"Our projects aren't 'what if' situations. You're not designing in a vacuum," said Cleary, who was part of two teams of students that created award-winning exhibits for the Philadelphia Flower Show. "They have very clear goals, parameters and deadlines that need to be met. There is a practicality to what we are learning."
Commencement is just one of the major milestones on the horizon for Cleary. He and his wife are expecting their second baby, due in July, and he will begin a full-time position with a landscape architecture firm. Continuing to learn and develop professionally is also part of Cleary's next stop.
"I want to immediately start preparing for [landscape architect] licensure," he said. "The quality of work expected in my program has always been at a very high level, which I think has ultimately prepared me to be a successful practitioner of landscape architecture."