Next stop: Orthodontic residency
Amrita Bhan is continuing her journey at the Kornberg School of Dentistry with a two-year residency program.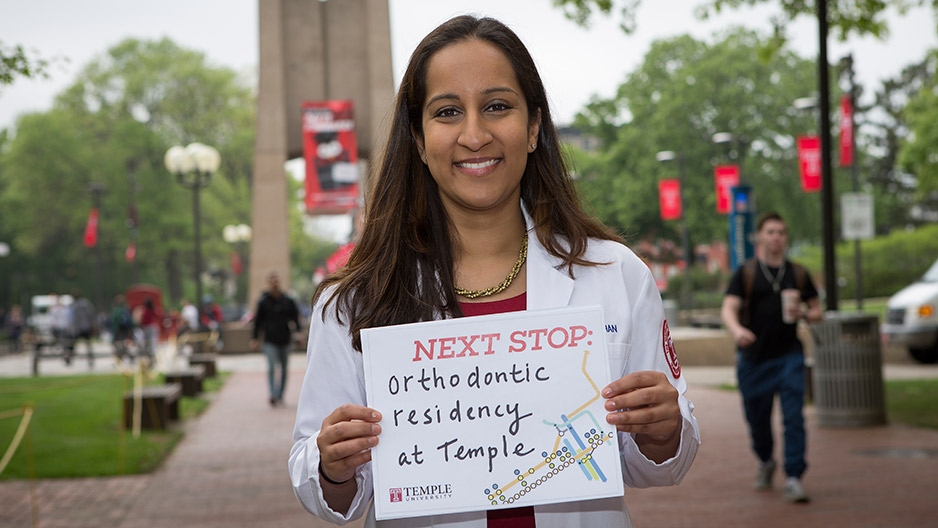 Name?
Amrita Bhan 
Hometown?
Lancaster, Pennsylvania
Degree?
Doctor of Dental Medicine
Next stop?
My next stop is orthodontic residency at Temple Dental.
How has your experience at Temple prepared you for your next stop?
Temple prepared me by giving me a strong foundation in clinical dentistry, and also by providing me with leadership experiences that helped me grow as a professional.
How have Temple faculty members influenced you?
The faculty at Temple's dental school was one of the best parts of my experience here. I felt that they went out of their way to teach me everything they possibly could in four years. My teachers pushed me every day to think critically and apply what I'd learned in the classroom to a clinical setting. I am looking forward to two more years at Temple!
What's your favorite memory of your time at Temple?
My favorite memory so far is the day I treated my first patients. I remember feeling a mixture of excitement and anxiety. The excitement grew as I realized that I had the skills necessary and I would really be able to help change some of my patients' lives.