Digital dentistry comes to Temple
New equipment puts the Maurice H. Kornberg School of Dentistry at the forefront of a dental revolution.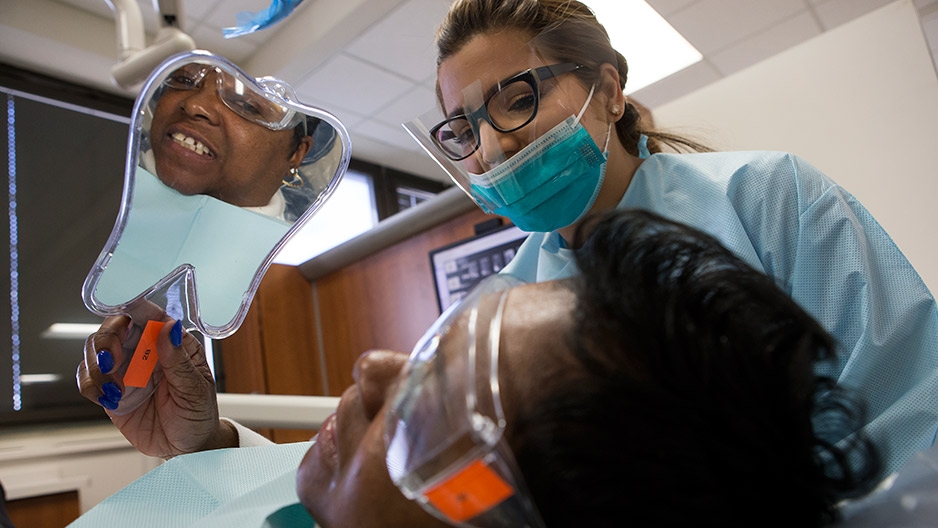 To celebrate the launch of the Henry Schein Digital Dentistry Program, Temple University's Maurice H. Kornberg School of Dentistry identified five local patients in need of dental work to experience digital dentistry themselves.
The school offered the patients a procedure known to cause some apprehension: having a dental crown installed. Historically having a crown placed—a procedure that places a milled cap over a tooth—required patients to make multiple trips to the dentist for uncomfortable dental impressions and painful poking in the mouth. With the equipment now available at Temple, that's changed.
Audrey Lane, a local resident and longtime dental school patient, was one of the first to experience the new digital approach to having a crown installed.
Instead of suffering through several mouthfuls of goop, Lane's impressions were taken digitally. Those impressions were then used to design and produce her crown at an onsite milling lab. The whole process took approximately 30 minutes. When Lane's crown was delivered from the mill, her doctors were unhappy with its shade, so they produced another that better matched the shade of her surrounding teeth. The second crown was created and delivered in less than 15 minutes.
"It should have been like this years ago," she said. "This is amazing."
Lane said she wouldn't go to another dentist unless they offered the same procedure.
Fourth-year dental student Umme Hafeez, who has provided dental care to Lane in the past and helped place her digital crown, was also satisfied with the procedure's results. "I'm happy she's happy," said Hafeez.
For Lane and the other patients seen that day, the cost of the crowns was waived.
A new era in dentistry
The launch of the program marks a turning point in the digital revolution underway in the School of Dentistry, which positions Temple at the leading edge of dental schools demonstrating how outcomes and patient care can be improved with digital technology.
"Our goal in this program is to provide the best affordable care for our patients."
-- Amid Ismail, dean of the Kornberg School of Dentistry
Through a partnership with healthcare products and service provider Henry Schein Inc., the school is outfitted with the latest innovations in dental equipment. Faculty and students now have access to computer-aided design and manufacturing solutions, digital radiography, intraoral cameras, and practice management software solutions from Henry Schein and its partners.
The benefits of the partnership go beyond training dental students and faculty on the newest technologies available—the patient experience will also improve in terms of comfort, convenience and cost.
"Our goal in this program is to provide the best affordable care for our patients," said Amid Ismail, dean of the Kornberg School of Dentistry. "Technology can reduce the cost of care and improve access to high-end procedures."
Long-term impact
According to Ismail, Kornberg has increased its patient population by 20 percent in three years. Many of those patients come from North Philadelphia. The center will help the school continue to grow its patient population.
"We can reduce costs and pass some of the savings on to patients, so that results in more people getting care," said Ismail. "The labs also use digital milling, allowing the production of crowns to increase, which also impacts the price."
Additionally, many of the digital approaches that are being developed allow teams within dental practices to deliver the care. "Dental hygienists and assistants can take impressions and show it to the dentist for the preparation of the tooth," said Ismail. "This enables dental practices to provide more efficient care."