Temple University reaches height of Carnegie research classification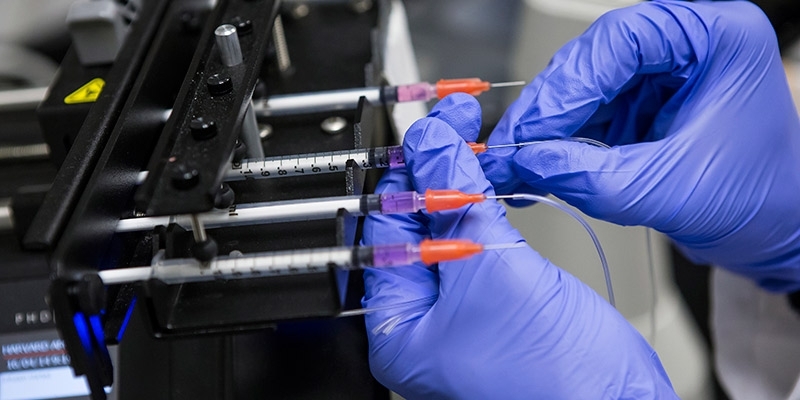 Fueled by dynamic research focused on transforming lives in Philadelphia and beyond, Temple University has been elevated to the top tier of the Carnegie Classification of Institutions of Higher Education. 
Temple rose from the "high research activity," or R2, category to "highest research activity," or R1, placing it among the top four percent of all four-year institutions in the nation [see sidebar 1]. Carnegie reviews national research universities on a five-year cycle, classifying them by the productivity and scale of the research enterprise. It is a performance-based ranking based on national benchmark data. Classifications are not influenced by peer input or other rankings. The university's research expenditures have reached a record $242 million, putting it in the top 100 for research spending according to the National Science Foundation (NSF).
"Research is now woven into the fabric of Temple in a way that's unprecedented in our history."
-- Michele Masucci, vice president of research administration.
"Temple's top tier Carnegie classification amplifies our ability to attract top faculty and more research dollars, so we can aid the community through our discoveries," Temple President Neil D. Theobald said. 
The university's increasing productivity reflects its excellence in biomedical research, which is  concentrated in the Katz School of Medicine but extends through the College of Science and Technology, the School of Pharmacy, the Kornberg School of Dentistry, the College of Engineering, the College of Public Health and College of Liberal Arts.
"An explosion of innovative basic and clinical research is taking place every day at the Lewis Katz School of Medicine and at Fox Chase Cancer Center, and several new programs are advancing rapidly including neurovirology and comprehensive neuroAIDS; translational medicine; cancer research; inflammation, translational and clinical lung research; cardiovascular research; and substance abuse research," added Larry R. Kaiser, president and CEO of Temple University Health System and dean of the Katz School of Medicine.
The university has also expanded into new areas, including advanced materials, big data research, energy and genomics, which are concentrated in the sciences and engineering but also extend to most other colleges. Temple also has a number of marquee programs, such as the Robert Wood Johnson Foundation–funded Policies for Action research center in the Beasley School of Law. 
"Although intended for research and policy purposes, the Carnegie Classification has become an integral part of the fabric of higher education, as it is used by a variety of organizations for shaping accountability and opportunity," said Victor H.M. Borden, professor of higher education and student affairs at Indiana University and the director of the project for the Center for Postsecondary Research.
How it happened
Temple is strategically investing in its research enterprise, diversifying funding sources and approaching the entire research apparatus holistically, explains Michele Masucci, vice president of research administration.
Its momentum centers on President Theobald's commitment to research and was catalyzed by the Board of Trustees investing $50 million in a technology commercialization fund. 
"Research is now woven into the fabric of Temple in a way that's unprecedented in our history," said Masucci.
This year faculty generated 115 inventions, nearly doubling the prior year's 60. And in the past five years, the university launched 15 startups—more than the total launched in the previous two decades. 
Those achievements have allowed Temple to diversify its funding—a critical move at a time of static government support. While most funding comes from National Institutes of Health and NSF, more faculty are receiving awards from other agencies, industries and private donors. For example, Janssen Pharmaceuticals is funding cross-disciplinary microbiome research, and Dianne Langford, professor of neuroscience in the School of Medicine studies traumatic brain injury with support from a private donor. 
Another source of Temple's growth is its holistic approach to research. 
"We're now emphasizing the importance of the whole process of conducting research, including grant-seeking as well as commercialization," said Masucci. "This complements our longstanding recognition of the scholarly work of faculty across all disciplines."
Driven by faculty excellence
Since 2012 Temple has hired nearly 200 tenured or tenure-track faculty, including many star researchers. Seven faculty members are in the top one percent of the most cited scholars in the liberal arts, medicine and pharmacy; four have five of the most cited scientific papers, putting Temple at No. 29 in Google Scholar citations. 
Allison Hayes-Conroy, assistant professor of geography and urban studies, said she joined Temple because of its dedication to faculty and research. Hayes-Conroy recently partnered with four other Temple professors across disciplines. Together, they earned a National Research Foundation grant to study a novel model for graduate education that centers on the body as a link between the social and life sciences, including geography and genomics.
Improving everyday life
Masucci points out that Temple's unwavering commitment to the community is what's most remarkable about its research growth. Over the past five years, Temple discoveries have driven groundbreaking treatments for HIV, heart failure and influenza. 
The Carnegie top tier classification also increases the value of a Temple degree and makes the most prestigious graduate programs more accessible to its scholars. In addition, more graduate students intent on academic careers are already choosing Temple. 
"Pioneering research is performed at Temple every day," said Theobald. "We're committed to creating new knowledge so the people of Philadelphia and the commonwealth of Pennsylvania can lead better lives."

Related stories:
Rising research stars