New initiative promotes safe newborn sleep
Mothers who give birth at Temple University Hospital will receive sleeping boxes for their newborns.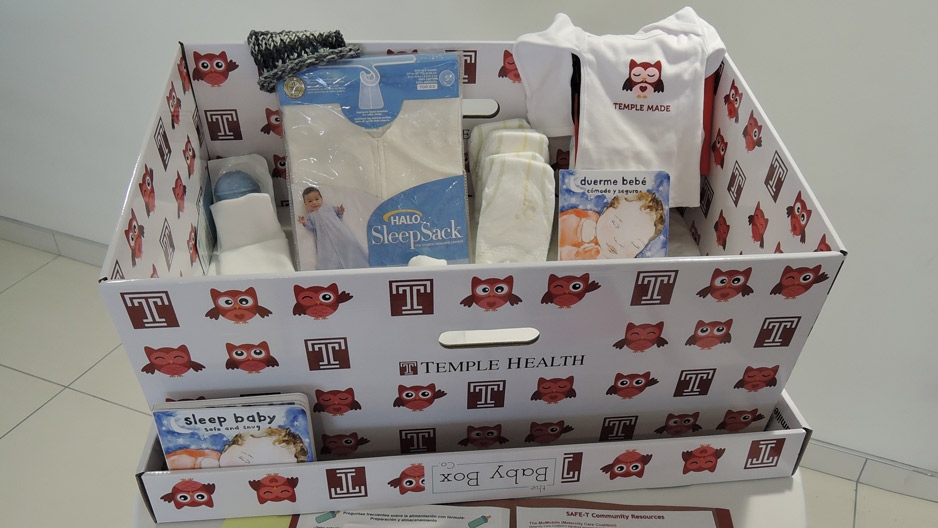 Brianna Devero thought she had two more weeks to prepare for the delivery of her baby boy. But, as most new mothers quickly learn, newborns rarely follow a set schedule.
"He came when he was ready," said Devero, a first-time mom. "We still had a lot to do, including setting up his crib."
Being unprepared or underprepared for a new baby is typical for many young mothers who often use cost-saving measures like "co-sleeping"—a practice where parents sleep in the same bed with their babies—until they can get the proper furniture.
In an attempt to reduce this practice, Temple University Hospital will provide sleeper boxes to all mothers who deliver at the hospital.
Decorated with the iconic Temple "T" logo and owl mascot, the baby boxes are functioning, sturdy bassinets that come equipped with a sheet and mattress as well as essential supplies including baby wash, diapers, a nasal aspirator, a thermometer and educational materials.
"Having a baby can be overwhelming and there is so much for new parents to learn in such a short amount of time. We're trying to ease that transition and help give parents the education and resources they need to provide their babies with a safe sleep environment," said Megan Heere, MED '08, assistant professor of pediatrics at the Lewis Katz School of Medicine and medical director of the Temple University Hospital Well Baby Nursery.
Providing portable safe sleepers to mothers of newborns is based on a longstanding practice in Finland. In response to a high infant mortality rate in the 1930s, the Finnish government began distributing these baby boxes and the mortality rate has dropped steadily ever since.
"This project is an outgrowth of Temple's overall commitment to its community and to improving the health and well-being of women and infants," says Elizabeth Craig, vice president and chief nursing officer, Temple University Hospital.
The hospital is also partnering with the Philadelphia Fire Department on the infant safety project to provide vouchers to new parents that will allow them to have smoke detectors installed in their homes.