A Temple-run program helps mothers take control of postpartum weight gain.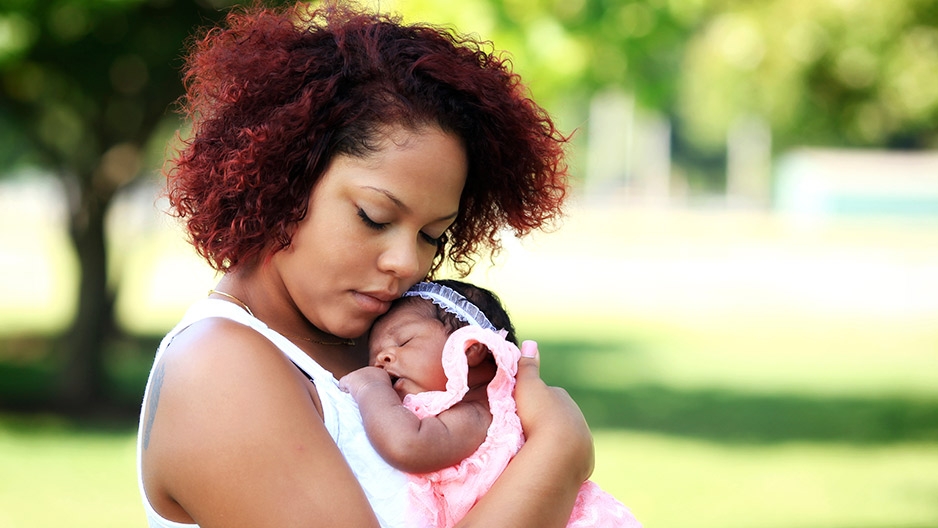 A lot changed for Teeah Mccall after she gave birth to her daughter Kristina. Not only did she find herself with a new set of responsibilities as a parent, but she also had to adjust to her post-pregnancy body, which included a few extra pounds.
According to a research study by the Center for Obesity Research (CORE) in the College of Public Health, Mccall is not alone.
The childbearing period is a critical life stage for weight gain and the development of cardiometabolic disease, especially for the nearly three-quarters of African American women who enter pregnancy already overweight or obese.
In an effort to address this issue, researchers in CORE developed a postpartum pilot program called Healthy4Baby, which uses low-cost technology such as text messaging and social media to encourage new mothers to take action aimed at helping them lose weight.
"It's difficult for African American mothers to find weight loss programs geared toward their needs," said Sharon J. Herring, MED '02, lead investigator and associate professor of medicine. "Relatively few weight loss studies have included ethnic minority women, and those that have— even when 'gold standard' approaches are used—report less intervention engagement, higher attrition rates and poorer postpartum weight loss outcomes among their African American participants."
After joining the 14-week pilot program, Mccall lost more than 20 pounds.
A mix of text messages reminding her to eat healthy and incorporate exercise into her routine,  paired with social media communities and telephone calls with a health coach, helped Mccall manage her weight.
And she's now a peer coach for the program. Mccall is using her experience to coach 13 women who, like her, are looking for ways to lose their postpartum weight and keep it off.
The successful results of the pilot program, published in the Journal of Nutrition Education and Behavior last year, resulted in a $3.6 million, five-year grant from the National Institutes of Health to develop a long-term program called #SnapBack. Through partnerships with the federally funded Women Infant and Children (WIC) food supplement program, #SnapBack hopes to recruit more participants.
"There are a number of challenges women face in the postpartum period when trying to lose weight and maintain a healthy lifestyle," said co-investigator Chantelle Hart, associate professor in the College of Public Health. "By partnering with WIC and capitalizing on mobile technology, #SnapBack will be able to evaluate a promising community-based program to help women achieve their weight loss goals."
Related stories:
Messaging key to minority involvement in clinical trials, Temple researcher finds
College of Public Health opens free clinic in North Philadelphia
Temple's fatherhood network funds first projects