Temple collaboration with SEPTA helps seniors become savvy travelers
Occupational therapy students are assisting older adults to navigate the city's public transit options.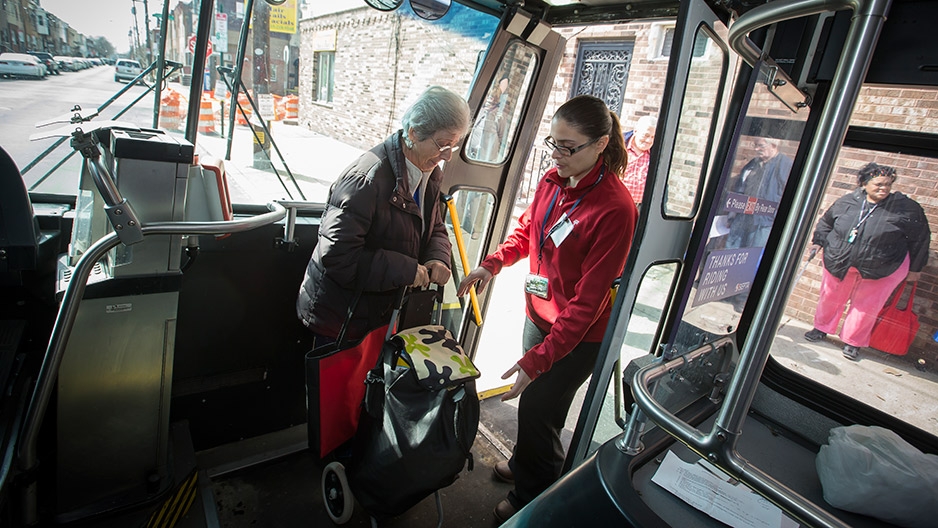 The reasons are varied: Fear. Inexperience. Lack of information.
The consequences are profound: Less independence. Not as much time with family and friends. Perhaps fewer trips to the grocery store or visits to the doctor.
In a unique collaboration, Temple University, SEPTA and the Marconi Older Adult Program in South Philadelphia have piloted a travel-training program for senior citizens to help eliminate barriers to using public transportation and empower them with the information and skills to confidently do so.
Becoming savvy travelers
The Savvy Traveler program for senior citizens is an extension of the community mobility work that SEPTA, supported by Temple's occupational therapy graduate program, has engaged in for School District of Philadelphia students with autism spectrum disorders and intellectual disabilities.
In fall 2015, Temple students researched community mobility initiatives for older adults, as well as the best teaching and learning approaches for senior citizens. From January through March, four students spent a day a week at the Marconi Older Adult Program to deliver eight group travel-training sessions to nearly 20 seniors per meeting.
Topics covered in the sessions included how to call customer service for directions or to report an issue; how to plan a trip via septa.org or Google Transit; and how buses can be made more accessible through ramps or by "kneeling," when a bus tilts its entrance toward the ground to reduce the height to climb aboard.
Most importantly, the workshops helped seniors dispel myths by learning from each other and emphasized that they have the right to request accommodations.
"Some seniors may internalize that a bus driver may not like them if they make requests, but other older adults would say, 'It's no problem. I ask,'" said Susan Santalucia, CLA '91, CPH '01, an occupational therapist and assistant professor of instruction in the Department of Rehabilitation Sciences in Temple's College of Public Health. "In addition to learning about travel planning and accessibility features, the workshops emphasized knowing your rights and feeling confident and secure in advocating for yourself."
Practice makes perfect
During the sessions, seniors practiced calling customer service, used tablets and smartphones to plan trips and even simulated engaging with a bus driver while getting on and off a SEPTA bus.
"We went from lectures to a totally private bus where they felt safe and comfortable practicing their skills," said Lois Rosage, a licensed occupational therapist with the SEPTA Travel Training Program, who collaborated with Santalucia to create the initiative. "That's what occupational therapy is about: to learn by doing and to have that step that went from lecture to real world on a real bus seat, which helped us solidify a lot of what we covered earlier."
Taking control
The Savvy Traveler program recently reached another milestone, as Temple students accompanied seniors on actual trips in order to put their skills into action. The program is also likely to expand to other senior centers.
"The program reminded people that you do have control, but you need to have the tools and the resources that you can draw on to communicate properly, whether it's with a SEPTA driver, a clerk, a doctor or a handyman," said Lee Fass, senior program coordinator at the Marconi Older Adult Program.