Rebecca Alpert, CLA '73, '78, was honored by the university for her expertise in the classroom.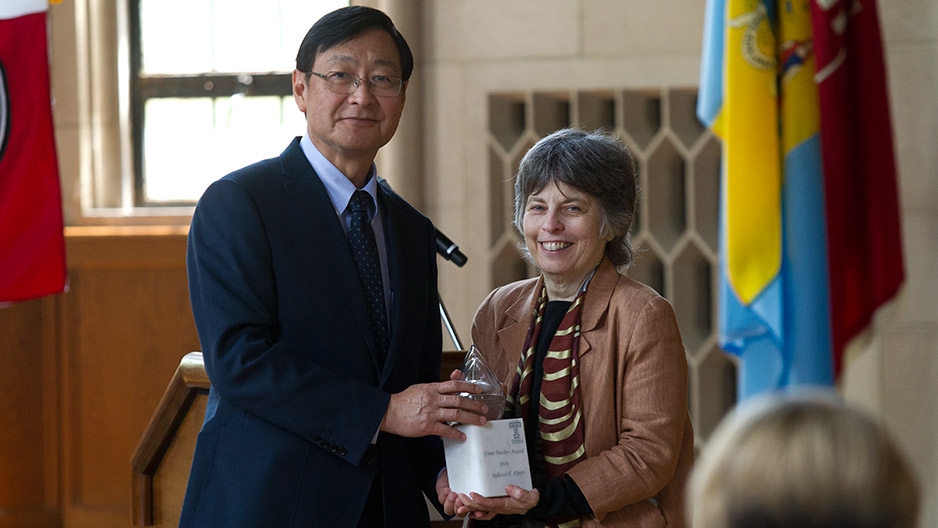 A physics major walks into a religion professor's office.
That is not the setup to an elaborate joke—it's the type of engaged, interdisciplinary learning inspired by 2016 Great Teacher Award winner Rebecca Alpert, CLA '73, '78.
At the start of the summer, Alpert, senior associate dean of the College of Liberal Arts and professor of religion, found herself mentoring the physics major in her office. As manager of the men's basketball team, he had an opportunity to interview a few players, and was seeking advice from Alpert about how to turn that experience into an article for publication.
The student had taken Alpert's religion and sports class—a course that grew out of her research on the topic. She was delighted that a science major had taken an interest in what he learned in the course and was applying those lessons to a personal project.
"That's what's fun about teaching," Alpert said. "It's so exciting to me that people can get out of their worlds and learn other things."
A great teacher
For Alpert, teaching is not a selfish pursuit.
"It's not about me," she said, "it's about what I can foster in my students."
Her student-first approach in the classroom is just one of the reasons Alpert was honored with the Great Teacher Award. In addition to her expertise in the classroom, she's amassed a solid portfolio of publications and research and has earned the respect of her colleagues and peers over the course of her career.
Ruth Ost, CLA '90, '94, senior director of the university honors program, spearheaded Alpert's recommendation for the award.
"Rebecca creates a classroom atmosphere in which honest engagement with challenging topics is valued," Ost said. "She exemplifies excellence and originality in teaching at Temple University."
Her students agree.
Dan Turner, Class of 2018, was a student in Alpert's popular Religion in Philadelphia course during the fall 2014 semester. "I came away with a new perspective on faith, practice and the formation and transformation of religion in the history of the City of Brotherly Love." he said. "She directed the class in a way that applied the rich religious history of Philadelphia to the present day landscape of the city."
A career of excellence
Alpert began her teaching career while she earned her PhD at Temple. Her first experience in the classroom was a trial-by-fire teacher assistantship—and she's continued to hone her craft to be an effective instructor. She has also dedicated herself to ensuring that graduate students at Temple take pedagogical coursework to better prepare them to lead a classroom.
"I wanted to make sure that all of the graduate students got what I didn't get when I was a graduate student, which was an education about teaching," she said.
"I love teaching that course," she added.
The course was influential in the development of the universitywide Provost's Teaching Academy, which is a faculty development program centered on topics such as human learning and teaching methods that promote engagement and collaboration.
Her work on Temple's campus has been recognized with numerous awards. In addition to the Great Teacher Award, she has received a Christian R. and Mary F. Lindback Distinguished Teaching Award, the College of Liberal Arts Distinguished Teaching Award and the Stauffer Award for Outstanding Faculty Service.
But for Alpert, the awards are secondary to making an impact in the classroom.
"I think of teaching as a helping profession," she said.
And through her approach to education, Alpert has made a career of helping her students be their best.