Student Health and Wellness Center to break ground this month
The multipurpose facility will add much-needed space on Main Campus for academics and exercise.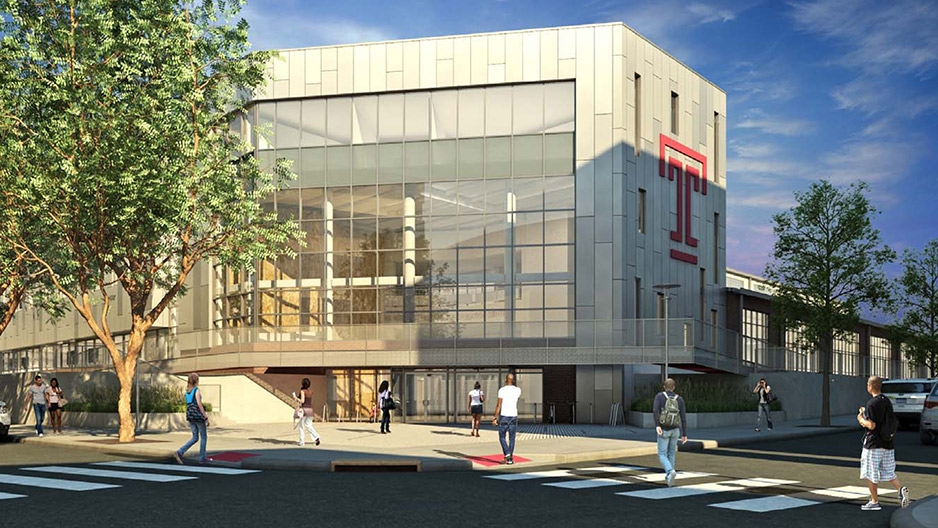 Temple University will break ground this month on a new Student Health and Wellness Center—an academic, athletics and recreation facility that will provide enhanced space for students in the College of Public Health to hone their clinical skills along with space for students to play recreational sports and weight train.
The centerpiece of the facility is the main entrance, angled toward the intersection of 15th Street and Montgomery Avenue. A two-and-a-half-story glass atrium will greet pedestrians, who will enter the facility beneath a portion of an outdoor track that serves as a balcony above the main doors before returning to ground level around the perimeter of the building. The new outdoor track will be accessible to the public.
"This dynamic, multipurpose facility adds critical academic, athletics and recreation space for our students," President Neil D. Theobald said. "It enhances the overall student experience at Temple and addresses important needs identified in our Visualize Temple campus plan."
The College of Public Health portion of the building, along Montgomery Avenue, will primarily serve the college's clinical training programs, particularly the occupational therapy and physical therapy graduate programs, which will move from Temple's Health Sciences Center to Main Campus.
The academic area will feature new applied laboratory spaces with the latest instructional technology, lecture halls, smart classrooms and a demonstration/teaching apartment with wheelchair-height kitchen counters and appliances, as well as a fully accessible bath and bedroom.
"This new facility will give our students unique experiential learning opportunities and much-needed classroom space," Dean Laura A. Siminoff said. "The addition of an apartment suite, which complies with Americans with Disabilities Act access guidelines, will allow the college to fully prepare our students to understand the complexities and accommodations needed to assist individuals with disabilities and the elderly to live independently."
The indoor recreation area, along 15th Street, will double the amount of free-weight space currently available to students. The remainder of the facility will feature a 70-yard synthetic turf field for use by intercollegiate athletics teams and by the 36 club sports and 10 intramural sports available at Temple. A new climbing wall, lounge area and a juice bar are planned for the main lobby.
"Having a larger indoor field for our teams to practice is something we as a department and our student-athletes have certainly wanted," said Director of Athletics Patrick Kraft. "This facility is another example of our commitment to providing the very best spaces and support for Temple student-athletes."
The targeted completion date is fall 2017. The architecture firm Moody Nolan designed the facility.