At Lewis Katz School of Medicine, a focus on storytelling
Michael Vitez, a longtime journalist, joins Temple to kickstart narrative medicine.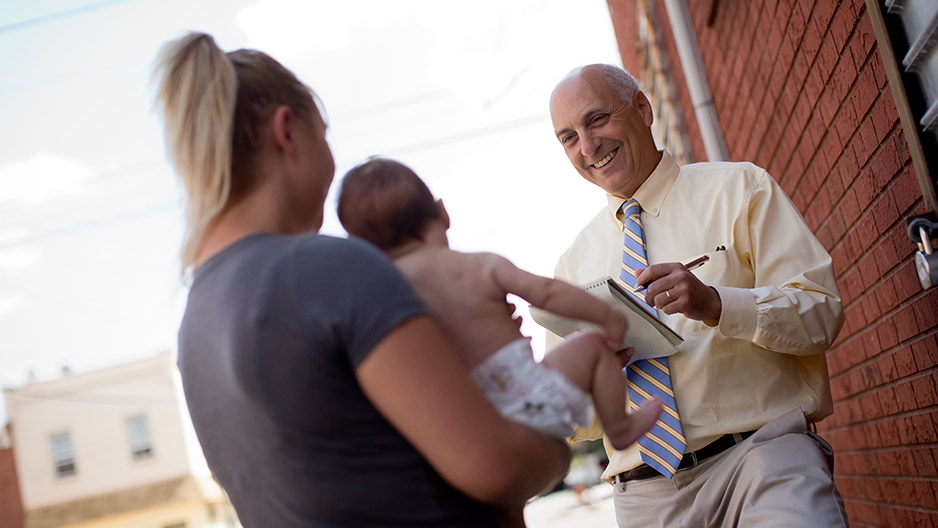 The truth about life inside the Lewis Katz School of Medicine and Temple University Hospital is that so much goes on—so much of the human condition is seen and felt—that many incredible stories simply go untold.
Leave it to a Pulitzer Prize–winning journalist to change that.
"Stories are an indispensable part of medicine, a fundamental part, and they have been so long overlooked," said Michael Vitez, whose byline was a 30-year mainstay at the The Philadelphia Inquirer.
After a long and lauded journalism career, Vitez has joined the Katz Medical School as director of narrative medicine, a new initiative designed to help students, doctors and patients reflect by empowering them to tell their stories.
Gearing up to teach elective courses focused on storytelling and interviewing, Vitez said he approaches narrative medicine with a simple philosophy: Stories can help medical professionals and their patients heal and connect.
It's a discipline that has found popularity at other medical schools, particularly Columbia University, where a master of science in the program is offered.
Vitez assumed his position in the school's Office of Student Affairs in April and has worked to explain to doctors and students how narrative medicine can benefit their medical acumen. "It's not going to help them pull out a gallbladder or tie a better suture," he admitted, but "it helps you preserve the essence of what brought you to medicine to begin with."
He's relayed how reflection can help unleash the internalized torrent of feelings associated with working in the medical field. He's explained how storytelling and listening can help medical professionals forge better relationships.
"One of the premises or tenets of narrative medicine is that you really can't provide optimum care to patients unless you really know their story," Vitez said.
He hasn't put the pen down himself: Leading by example, he's already written about one man's remarkable recovery following last year's Amtrak train derailment and an intensive care unit resident who has a way with words.
"There's more to medicine than just the technical knowledge. The ability to relate to people is particularly important," said Larry R. Kaiser, president and CEO of Temple Health, dean of the school of medicine, professor of surgery, and senior executive vice president for health affairs at Temple University.
Many medical schools have recognized the value of the humanities in helping future doctors to empathize with patients, and narrative medicine works to that end.
"What we deal with sometimes are difficult situations, and to be able to put one's thoughts [and] feelings into words is very important," Kaiser said. "Everybody has a story."
Medical storytelling is more than familiar territory for Vitez, who in 1997 received the Pulitzer Prize for Explanatory Journalism for his work documenting critically ill patients and the decisions they encountered during their final days. He also authored the 2012 book The Road Back: A Journey of Grace and Grit, which follows a University of Virginia student's recovery following a cycling accident.
The new emphasis on narrative medicine could one day lend itself to new degree offerings, Kaiser said. And Vitez said the possibilities with the discipline are in no short supply. Perhaps students will head into their surrounding community with cameras to interview and better understand those in the populations they serve. Others in their first year of residency could write about the first days on the job. He wants to be a resource for any students or physicians who have an idea and want to explore it.
Stories may be published on the school's website or appear in external publications. The important part is that they're told, Vitez said.
"You build community when you write great stories," he added. "You underscore what's important: our humanity, our compassion, our resilience."