Travel FAQ for Temple students and employees using SEPTA Regional Rail
Answers to frequently asked questions about the transit agency's rail-car shortage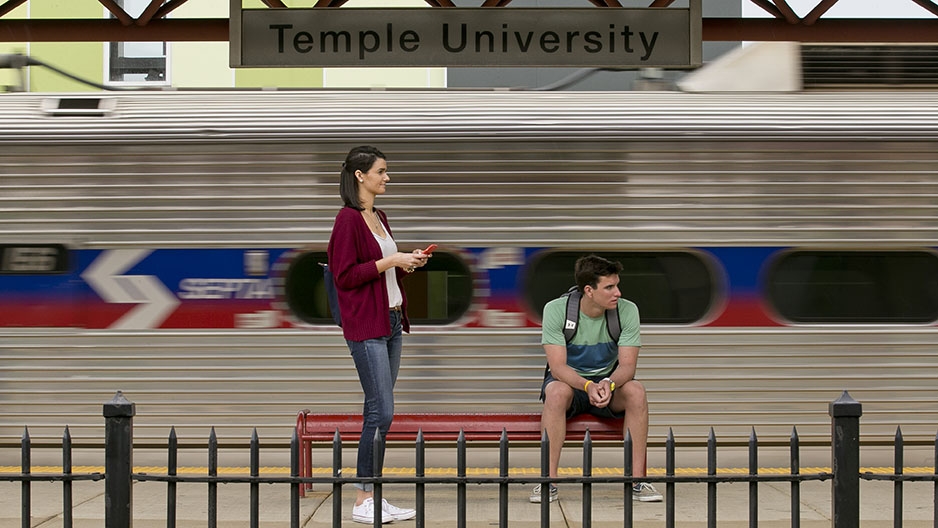 Last updated: Sept. 29, 2016
Temple students, faculty and staff who use SEPTA Regional Rail to travel to and from campus should expect modified schedules, delays and crowded conditions due to a continued equipment shortage that has left fewer train cars in service. As Temple monitors this situation, we will update this page with the latest information.
Important update: SEPTA has announced that it will resume regular weekday Regional Rail service on all lines starting Monday, Oct. 3. Detailed schedule information and updates are available on the transit agency's website. Please check your Regional Rail schedule and make personal travel adjustments as needed.

What's happening? 
What's the current situation?
Has fare collection changed during the rail car shortage? 
What can I do? 
How does this affect Temple? 
What if I don't want to wait for my train on the platform? 
What if I'm late to work or class? 
Will parking at Temple be affected?

What's happening?
In early July, SEPTA introduced schedule modifications across its Regional Rail system due to substantially diminished train capacity. These changes were instituted after a defect was found that prompted the agency to pull 120 Silverliner V cars from service. Those 120 cars represented approximately one-third of the Regional Rail fleet and accounted for about 13,000 available seats.

Back to top. 
What's the current situation?
In early August, SEPTA announced that it expects to begin returning Silverliner V rail cars to service on a regular basis starting in late August. The agency said approximately 10 cars will be put back into service each week, starting the week of Aug. 21. All 120 Silverliner V cars are expected to be back in service by early November.
Due to the equipment shortage, SEPTA modified its weekday Regional Rail schedules. The agency has said it will make additional adjustments that will go into effect after Labor Day (Monday, Sept. 5). These changes include weekday supplemental express bus service starting Tuesday, Sept. 6, and serving some of the highest ridership Regional Rail lines.
Detailed schedule information is available on SEPTA's website.

Back to top. 
Has fare collection changed during the rail car shortage?
Yes. On Aug. 1, SEPTA started collecting Regional Rail fares before customers enter the platform area at Center City stations, including Temple. This temporary fare procedure applies only to the weekday evening rush from 3 to 6:30 p.m. There is no change to fare collection for all other hours or weekends.
From 3 to 6:30 p.m., riders have their fares validated by SEPTA personnel before proceeding to the boarding platform. Riders must purchase tickets at the ticket office before going to the stairway fare lines. Please note that tickets cannot be purchased from the fare validation personnel or from train conductors during the evening rush hour.

Back to top. 
What can I do?
Review your train schedule, as trains may be leaving earlier or later than previous schedules or may be experiencing delays. You can monitor train arrivals in real time using SEPTA's Next to Arrive app. Regularly re-check the schedule for your line, as it may change as capacity increases.
Allow more time for rail transit or consider taking earlier trains. Plan ahead, and purchase fares in advance whenever possible. Consider purchasing fares at your home station to avoid lines at the Temple station ticket office. Also consider taking trains outside the peak morning and evening rush hours.
Regional Rail riders may also want to use other transit options, such as the many bus routes that operate through Main Campus or the Broad Street Line subway. The Cecil B. Moore station is at the southern end of campus and the Susquehanna-Dauphin station is at the north. You may consider carpooling or bicycling to campus, where there is ample bike parking. Temple's campus also features Indego bike-sharing locations.

Back to top. 
How does this affect Temple?
Temple has a heavily used Regional Rail stop, so crowded conditions are likely, both on the boarding platforms and at the ticket office, especially during the evening rush hour, when fares must be purchased before boarding trains.
Due to crowded conditions, some trains might bypass stations. Because cars coming out of Center City could be full, riders from Temple might consider taking inbound trains and switching to their normal outbound trains at either Jefferson or Suburban stations. An alternative would be to take the Broad Street subway to City Hall and transfer to Suburban Station to board trains.
Note that many campus facilities and resources offer extended hours, especially during the academic year. If you arrive on campus early, there are plenty of places to study, relax, eat or wait for a class to start.

Back to top. 
What if I don't want to wait for my train on the platform?
Temple offers a Commuter Lounge at Berks and Warnock streets east of campus. The Commuter Lounge—accessible with an OWLcard—includes Wi-Fi, a TV area, a kitchenette, restrooms, lounge seating and airport-style storage lockers. The lounge's experience is further enhanced by its proximity to Saige Café next door.
 
Back to top. 
What if I'm late to work or class?
Students and employees are still expected to arrive at class or work on time. Class attendance policies are the province of each instructor. Employees should discuss any scheduling changes with their supervisors. We encourage everyone to be patient and understanding, especially over the first few weeks of the fall semester, as many students, faculty and staff adjust to this situation.

Back to top. 
Will parking at Temple be affected?
Commuters who normally take Regional Rail may choose to drive to campus instead. Therefore, Temple parking lots could reach capacity faster than normal.
Hourly parking rates are available at the Cecil B. Moore lot (1223 Cecil B. Moore Ave.) for $4 per hour and at the Tuttleman lot (1205 W. Montgomery Ave.) for $6 per hour.
Student commuter parking is available in the 15th Street Lot, Temple Towers Lot and Bell Garage for $60 per month and can be purchased on a month-to-month basis. Lot 7 (11th and Norris streets) might also be made available if additional spaces are needed.
Student commuter parking is available for $240 per semester in the Temple Towers Lot, Diamond Street Lot and the Liacouras and Montgomery garages.  
Students also have the option to purchase part-time parking for $8 per entry at the Liacouras or Montgomery garages. Students who choose this option will need to deposit funds onto their OWLcards, and those funds will be deducted every time the student swipes his or her ID when entering the parking location. We suggest a minimum purchase of $200 (25 admittances). Students are required to display parking permits on their rearview mirrors.  
Students can sign up for all parking options via the TU Parking Account system.  
Faculty and staff can sign up for part-time parking ($8 per entry at the Liacouras or Montgomery garages) by registering their vehicles and adding funds on the TU Parking Account system.
Another option for employees is a special SEPTA Regional Rail monthly parking pass for $120, which can be purchased using automatic payroll deduction via the Employee Forms section of the Staff Tools tab in TUportal.

Back to top.