On Diamond Street, a house of entrepreneurs
One townhouse is home to a small group of Temple students and graduates, and eight entrepreneurial endeavors.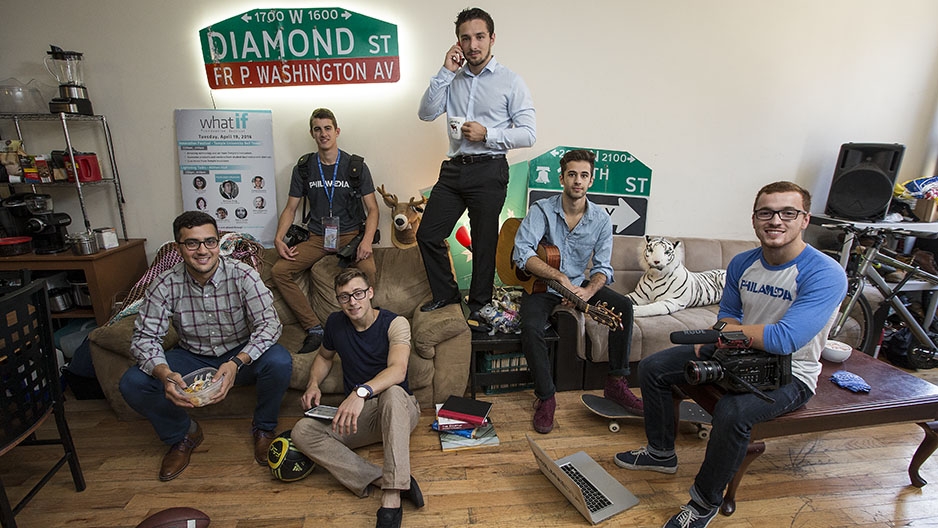 A pot of coffee is brewing on the stove as the housemates amble through the living room. On this morning, one is eating homemade parfait out of a Tupperware container, while another texts feverishly from the edge of the couch. Two others are gathered near the kitchen table discussing their company, through which their friendship and careers intersect.
In all, six 20-somethings from Temple University inhabit a house near 19th and Diamond streets in North Philadelphia. Five currently live there. The sixth, who used to call the two-story townhouse his home, reports there daily for work.
The housemates refer to the house constantly by its street number. But it could just as well be called the House of Entrepreneurs.

It's where eight businesses are operated between these six guys – three with Temple degrees, and three more set to graduate within the next two years. A number of those businesses are thriving and profitable. Others are either designated as not-for-profit, or are simply too new to turn a profit – at least for now.
"Money isn't the priority at the moment," said Jesse DiLaura, FOX '16. "We've prioritized community, learning, and supporting one another over solidified careers."
DiLaura would know this better than most. One of the house's current residents, the rising senior switched majors at the Fox School of Business – from Risk Management, which boasts a 100-percent job-placement rate for its graduating students, to pursue a degree in Entrepreneurship.
While The Princeton Review and Entrepreneur magazine rank Temple's undergraduate- and graduate-level degree programs in Entrepreneurship among the top-10 nationally, career paths for budding entrepreneurs aren't so easily defined. That's why these friends cull from their cumulative expertise to make their dreams more of a reality.

Read the full story. 

—Christopher A. Vito, SMC '07