Student made race car at Society of Automotive Engineers event
Built by Temple engineering students, the open-wheel car was on display at the Society of Automotive Engineers.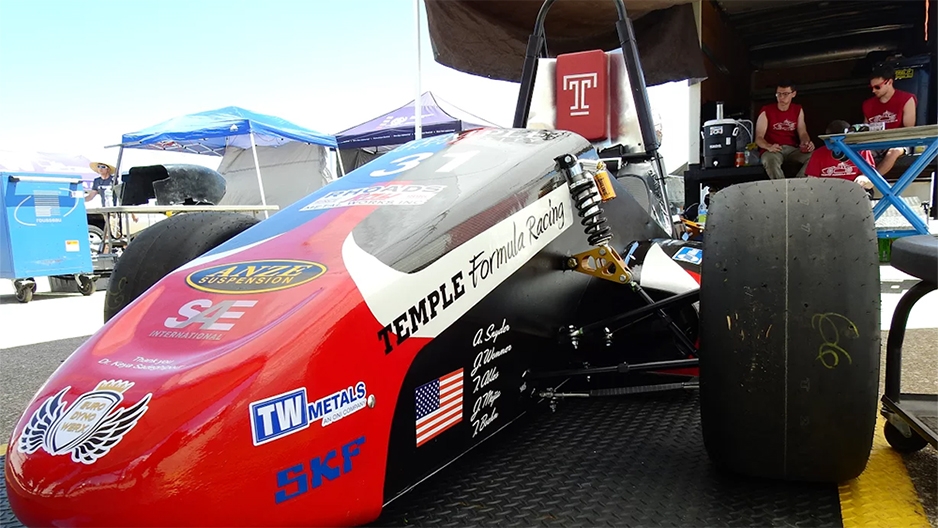 Back in June, campus had grown quiet. Caps had been tossed at commencement and most students had moved out of their dorms. But, one corner of campus was still buzzing—with power tools.
Temple Formula Racing—a group of engineering students who come together to design and construct an open-wheel race car—was in the final stages of preparation before competition.
In June, the team traveled to a Society Automotive Engineers event in Lincoln, Nebraska, to showcase their vehicle and the process undertaken to create it. This was the first year the team participated in this particular event, which was attended by 80 other national colleges.
"It's more than just the car, we are basically a mock company bringing a product to market," said Jonathan Petrina, Class of 2017. "We have to design and build the prototype race car and go through all types of events, ranging from marketing and promotion to entice sponsors and investors in the company, to a cost report where we'll be audited down to nuts and bolts."
Showcasing their work is nothing new to the team. Temple has displayed a car in other Society Automotive Engineers events and at the past three Philadelphia Auto Shows. What is new is that for the first time since 2012 the car passed all inspections.
Due to the excessive heat, the car was unable to complete the endurance race, placing Temple in 48th place for the overall competition. Although the team's car wasn't able to finish the race—like most of the other cars competing—the team's advisor Richard Cohen, professor of mechanical engineering, was impressed with the leap in rankings and the overall progress of the group.
"These kinds of experiences gives them the confidence that they can do real engineering even as a sophomore or as a student who doesn't always get As," said Cohen. "Sometimes we get students who excel because they understand what engineering is and that they can design something tangible that can actually work."