Posted
September 28, 2016
Dan Campbell, EDU '11, frontman of the band The Wonder Years, shaped his songwriting perspective at Temple.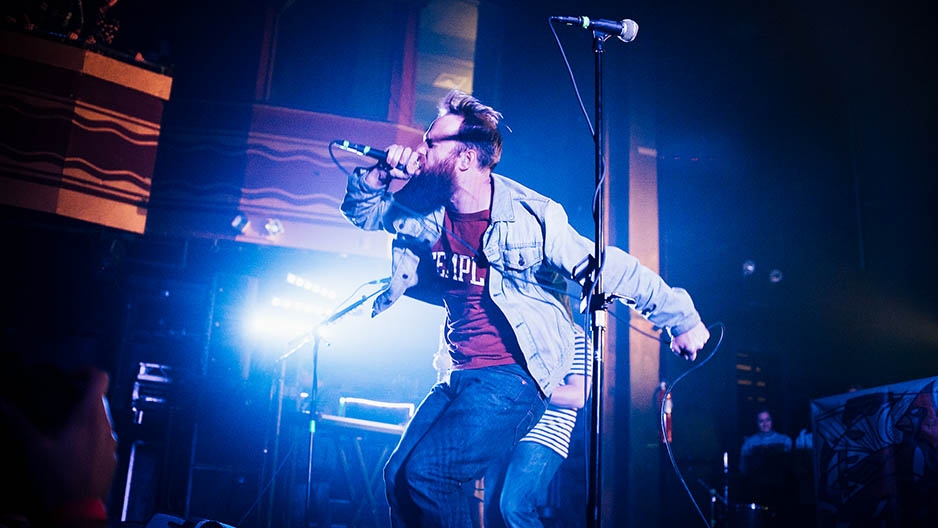 When Dan Campbell, EDU '11, was in seventh grade, he had to complete an assignment centered on what he wanted to be when he grew up. The only restriction? He and his classmates were prohibited from choosing careers as actors, athletes or musicians.
"The odds of succeeding in a career that everyone would love to have are so miniscule, so the project called for careers that are more widely attainable," Campbell explained.  
As it turns out, the odds were in his favor.
Campbell fronts the band The Wonder Years, which has toured 49 states—all but Montana—and 31 countries. The band has graced the stages of major festivals, including Riot Fest and the Warped Tour, and its latest album, No Closer to Heaven, reached No. 12 on the Billboard Top 200 chart.
The songs Campbell writes are politically charged and socially aware, taking on topics such as corruption, drug addiction and injustice, and inspired by beliefs that were strengthened during his time at Temple. As an education major, he had the opportunity to work with students at nearby Tanner G. Duckrey School and Joseph C. Ferguson schools—experiences that shaped his perspective.
"Working in those two schools right off campus informed my worldview more than a lot of other things," he said.
He initially connected with the students through music (they were impressed by the acts he was familiar with), but he delved deeper. He found it enlightening to learn the students' thoughts about community issues that affected them, such as poverty and violence. "Talking to the kids and understanding their points of view was really interesting."
As the band was taking off, Campbell remained committed to his education. "We are doing a thing that you're not supposed to be able to do," he said of the band's success. He and his bandmates knew that even if they reached a certain level of success, there would be no guarantee that it would last.
Juggling school and the demands of the band wasn't easy for Campbell, but he said he made it work because he really believed in his major. To him, the focus at Temple on urban education was significant.
"I felt like the work that we were doing was important," he said. "Finding ways to connect with kids was really cool."
For now, Campbell is connecting with fans—some of whom may be his former students—through his songs. And if he ever grows tired of the stage, a classroom will always await him.