C-SPAN Bus swings by Temple on battleground states tour
Temple students checked out the C-SPAN Bus when it made a stop on campus during its tour of battleground states in the week leading up to Election Day.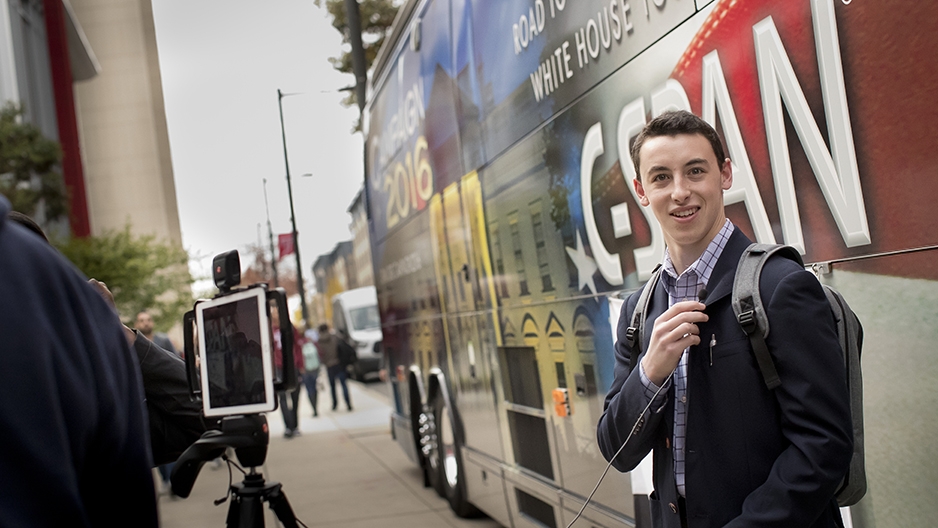 With less than a week to go before the election, students on Thursday got a chance to hang out on the C-SPAN bus as it stopped at Temple University during its tour of battleground states.

Students stepped onto the bus, which parked in front of the Student Center for about two hours, got a quick tour and took time to check out interactive touchscreens on the bus. Temple was the fifth university on C-SPAN's tour, which began in Greensboro, North Carolina, at the beginning of the week.

The bus caught freshman Steven Aronow's eye as he walked along 13th Street, so he stopped in for a closer look.

"It seemed intriguing," said Aronow, a media studies & production and marketing double major. "I said, 'Wow, this is a great opportunity to explore this.'"

This election is particularly special for Aronow, because it's the first presidential election in which he's old enough to vote. The Fort Washington, Pennsylvania, native said he's decided and ready for Election Day.


Junior finance major Nate Howard looks at a touchscreen inside the C-SPAN Bus.

For Nate Howard, a junior finance major, the election is also significant. Howard, who plans to join the Marines after he graduates in 2018, took a quick tour of the C-SPAN bus and stopped to talk about the election's importance as a future member of the military.

"The election's coming up, it's really exciting. I saw [the bus] and I was like, 'I've gotta go on it,'" Howard, who grew up in West Grove, Pennsylvania, said, adding that he's pretty sure he knows who he'll be voting for on Tuesday.

"That's our next commander-in-chief," he said.

C-SPAN's Vanessa Torres, a marketing representative, said the network also interviewed Robin Kolodny, chair of Temple's Political Science Department, during its stop on campus.