Life at Temple, through one Owl's eyes
Freshman Brandon Kane has used YouTube to document his daily life throughout his first semester.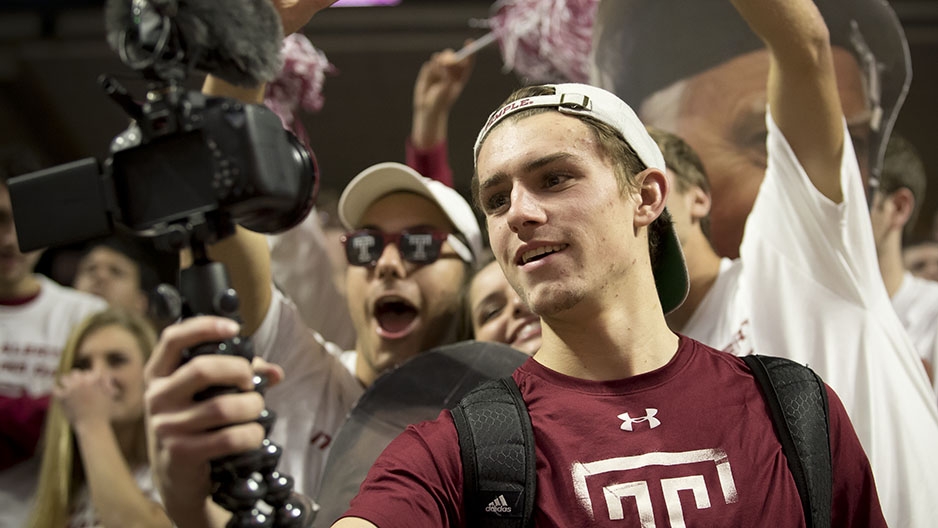 A burst of light flashes onto the screen, the camera adjusting to the sudden light change, and a quick view of a sunny Philadelphia, as seen from a train window, splashes into view. A shaky sequence then captures the filmmaker's view as he exits the train before focusing on the familiar station sign: Temple University.

The magic of the moment—arriving on campus for freshman orientation—was evidently not lost on the young man behind the camera, Brandon Kane.

"That was like Hogwarts Express," Kane said, the lens of his Canon T6i now flipped toward himself.

Then, the punchline: "Except for, it was dark and it smelled kind of funny."

Such has become a clearly successful formula for the freshman film and media arts major's continuing video blog, or "vlog," series on YouTube: Life moments both mundane and momentous, all punctuated by the 18-year-old's humor.

But more than entertainment and laughter for his viewers and those inadvertently caught in the production, Kane's recurring vlog has provided to the public a unique and intimate peek into the Temple experience at one of the most intriguing times for students.

The Elverson, Pennsylvania native, who said he decided on a whim to begin filming his daily life at the tail end of his senior year in high school, has brought his strong YouTube following along for the ride that has been his first college semester.

Video Production:
Brandon Kane
"I like to share stories of the things I'm experiencing," Kane said in an interview. "I slowly got used to looking a little bit odd in public, carrying my camera around and filming myself."
Indeed, he's lugged his camera to film himself moving into 1300 Residence Hall, enjoying his first day of classes (using a British accent), doing laundry for the first time (also in a British accent), exploring Philadelphia, partaking in a doughnut eating contest and
attending the first men's basketball game
. He'll continue documenting student life through his eyes on Temple's YouTube channel as the university's first student vlogger.
Kane's continued filming has also allowed him to make new friends—two of whom are also vloggers—and become something of a campus celebrity.
"Sometimes people recognize me," he said. "It's kind of odd but it's definitely worth it and it's cool to meet new people that way."
He's not the only one. There's also roommate Keaton Tauer, a freshman pharmaceutical sciences major from Minnesota who frequently appears in the videos. Tauer often provides a playful word of the day; words have included "crisp" (for reasons that are not immediately clear) and "birthday" (because it was Tauer's birthday).
"In a long time, it would be cool to show my kids. I think memories are really important. I want to remember this time in my life."
-- Brandon Kane, Class of 2020
Tauer said Kane informed him of his vlogging before move-in day, so he arrived with some semblance of preparation. "It was still more than I expected," Tauer said. "I didn't quite realize the scope of it all—but it's a cool, fun experience."
Kane admits that vlogging does take time and energy, especially for a student adjusting to the demands of a full college course schedule.
"You have to do it for the love of making things, for the desire to … share it with other people," Kane said. "It's worth staying up at 3 in the morning to finish a video."
In addition to the hands-on experience Kane's creating for himself and the audience he's cultivated, he's got posterity in mind.
"In a long time, it would be cool to show my kids," he said. "I think memories are really important. I want to remember this time in my life."
Follow Brandon Kane's vlog playlist on Temple's YouTube channel.