Epps joins first 'Philadelphia Inquirer' Business Hall of Fame class
The Industry Icon Award honors her career and contributions to Philadelphia's community.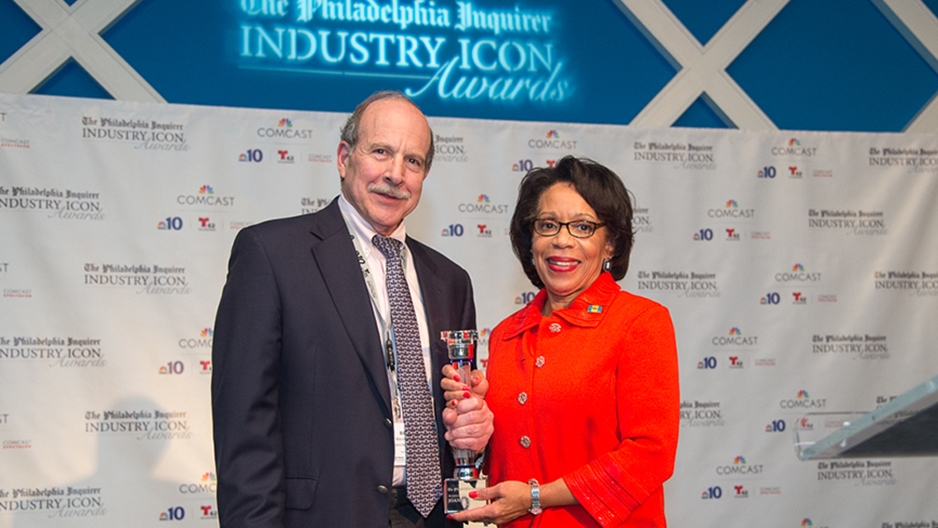 Philadelphia Media Network, publisher of The Philadelphia Inquirer, the Philadelphia Daily News and Philly.com, recognized Temple University Provost and Executive Vice President JoAnne A. Epps as one of five local leaders who have "achieved remarkable success in their businesses and careers while making major contributions to our community" at the first The Philadelphia Inquirer Industry Icon Awards gala on Wednesday evening.

The five honorees—a distinguished group that includes John "Jack" C. Bogle, founder and retired CEO of The Vanguard Group; Joseph Neubauer, former CEO of Aramark Corporation; Brian Roberts, chairman and CEO of Comcast Corporation; and the late Ed Snider, former chair of Comcast Spectacor and founder of the Philadelphia Flyers—make up the inaugural class inducted into The Philadelphia Inquirer Business Hall of Fame.

JoAnne Epps has enriched Temple University's campus for decades. She has a gift—she is awesome at leading people.
-- 'Inquirer' Editor Bill Marimow
The five Industry Icon Award winners and Business Hall of Fame inductees were selected by Philadelphia Media Network Publisher and CEO Terry Egger, Executive Editor and Senior Vice President Stan Wischnowski, philanthropist and Temple Trustee H.F. "Gerry" Lenfest and
Inquirer
Editor Bill Marimow, with input by
Inquirer
senior editors.
"I think it's valuable to recognize and chronicle the careers of people whose work has left a permanent mark on our city and our suburbs," said Marimow, who introduced Epps and presented her with the Industry Icon Award.
"JoAnne is a true home-grown hall of famer," Marimow said of Epps, a Cheltenham, Pennsylvania native, in his introduction. "JoAnne Epps has enriched Temple University's campus for decades. She has a gift—she is awesome at leading people."
In a
full-page profile of Epps
(and in
a video
shown at the gala),
The
Philadelphia
Inquirer
celebrated the arc of her career, which included stops in private practice and the Los Angeles Office of City Attorney before her arrival at Temple, where she joined the Beasley School of Law in 1980, eventually serving as dean from 2008 to 2016. The story also acknowledged her many contributions to the city and the world, from serving as chair of a police oversight board with responsibility for ensuring that federal recommendations to reduce the use of lethal force are implemented in Philadelphia to training prosecutors for the International Criminal Tribunal for Rwanda.
"I'm honored to be acknowledged alongside people of enormous positive influence. Their fingerprints are all over this city," Epps said prior to the event. "These are people who have committed their lives to leave their city and their region a better place for all of us."