Doctoral students land prestigious fellowships
Five doctoral students in the Lewis Katz School of Medicine recently received multi-year grants from the National Institutes of Health and the American Heart Association for cancer and cardiovascular research.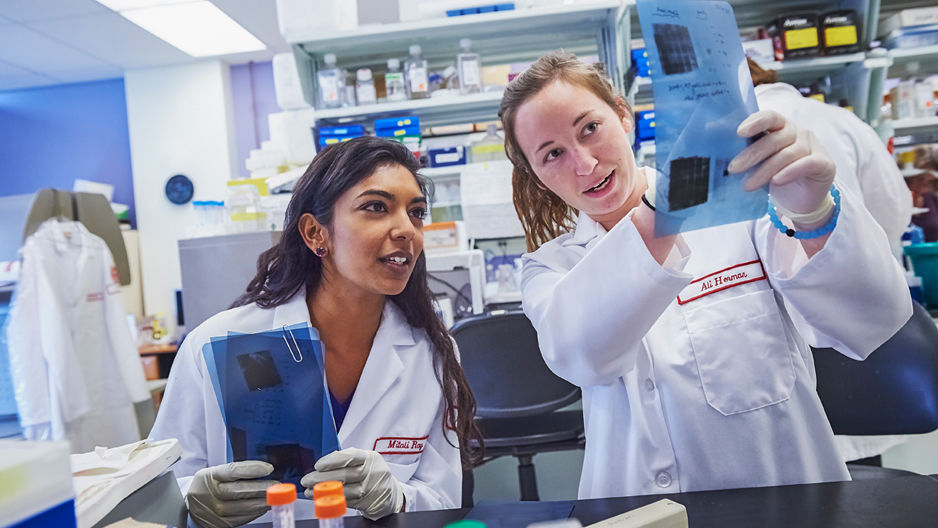 For Charly Ryan Good, breast cancer is personal. Her grandmothers and aunts on both sides of the family battled the disease. So when she was awarded a two-year grant from the National Institutes of Health's National Cancer Institute to develop breast cancer treatments, she came that much closer to realizing her dream of stopping the devastating illness.
Good, a fifth-year PhD student in the Biomedical Sciences graduate program at Temple's Lewis Katz School of Medicine, is among five doctoral candidates to recently receive multi-year grants from either the NIH or the American Heart Association.
With the grants, the two agencies are looking to the best and brightest researchers to find cures for the two leading causes of death in the U.S., cancer and heart disease.

"These fellowships are a big deal," said medical school Associate Dean of Graduate and MD/PhD Programs Dianne R. Soprano, a professor of medical genetics and molecular biology. "You need impressive research track records and substantial supporting data just to apply."
Soprano estimates that 10 to 20 percent of candidates who apply for the grants receive them.
Good is studying a gene that may explain what makes tumors grow in some cases of breast cancer. Working with her PhD advisor, Professor of Medicine Jean-Pierre Issa, director of the Fels Institute for Cancer Research and Molecular Biology, Good is hopeful that these findings will lead to better treatment options for breast cancer patients in the future.
"For decades, we treated all cancers the same. But we now know they are each unique with a different genetic makeup," Good said. "By understanding how each tumor grows, we will have treatment options that today don't exist."
Another PhD student to receive a grant, Polina Gross developed an interest in heart disease while working as a registered nurse in her home country of Israel. She became frustrated by only being able to treat the symptoms of heart disease but not the disease itself, and by the inability to do anything to slow its progression.
"Treating heart disease, especially after a heart attack, is tricky," said Gross, a fifth-year student. "Once the cardiac cells are injured, they can't regenerate themselves. Some cells die and the surviving ones have to work harder. Over time they become stressed and exhausted, contributing to congestive heart failure."
They are setting the stage for their future as promising researchers and principal investigators.
-- Dianne R. Soprano, Associate Dean of Graduate and MD/PhD Programs
Gross is using her American Heart Association predoctoral fellowship to accelerate her research in the Cardiovascular Research Center with her advisor, Senior Associate Dean for Research Steven R. Houser, MED '78. Houser is the Vera J. Goodfriend Endowed Chair for cardiovascular research, a chair and professor of physiology, and also serves as director of the center.
Students use the grant funds to cover their stipends, research expenses and travel to prestigious scientific conferences, where they present their findings.
Fifth-year doctoral student Katie Sullivan is using her three-year NIH grant to research targeted approaches to cancers, specifically leukemia.
"Cancer cells have no way to repair themselves," she said. "We plan to come up with a combination of drugs that targets cancer cells, while sparing normal, healthy cells. Ultimately, I hope our work here at Temple contributes toward a cure."
Sullivan works in the lab with her advisor, Tomasz Skorski, a professor of microbiology and immunology who also works in the Fels Institute for Cancer Research and Molecular Biology.
Determination and drive aren't new to Sullivan. Her grandfather, Robert H. Creamer, EDU '51, was one of the founders of Temple's College of Engineering and served as its first associate dean and later as acting dean. Creamer received the Stauffer Award for Distinguished Faculty Service in 1984.
Two other American Heart Association awardees are Alyssa A. Lombardi, a fourth-year student in the MD/PhD program, and fourth-year PhD student Mitali Ray. Lombardi is researching ways to stop damage caused by lack of oxygen from a heart attack or heart failure along with her advisor, John Elrod, an assistant professor of pharmacology in the Center for Translational Medicine. Ray is researching innovative ways to regulate and treat vascular inflammatory diseases under the direction of her advisor, Michael Autieri, professor of physiology and associate director of the Cardiovascular Research Center.
"These fellows are in an extraordinary position, performing as independent scientific investigators and establishing themselves as early career scientists," Soprano said. "They are setting the stage for their future as promising researchers and principal investigators."
—Hedy Taub Baker