Med student shares lessons from the other side of the stretcher
Michael Rockman, an MD/PhD student at Temple's Lewis Katz School of Medicine, suffered injuries in a car crash last year. He shared in The Philadelphia Inquirer how being a patient will forever impact his work.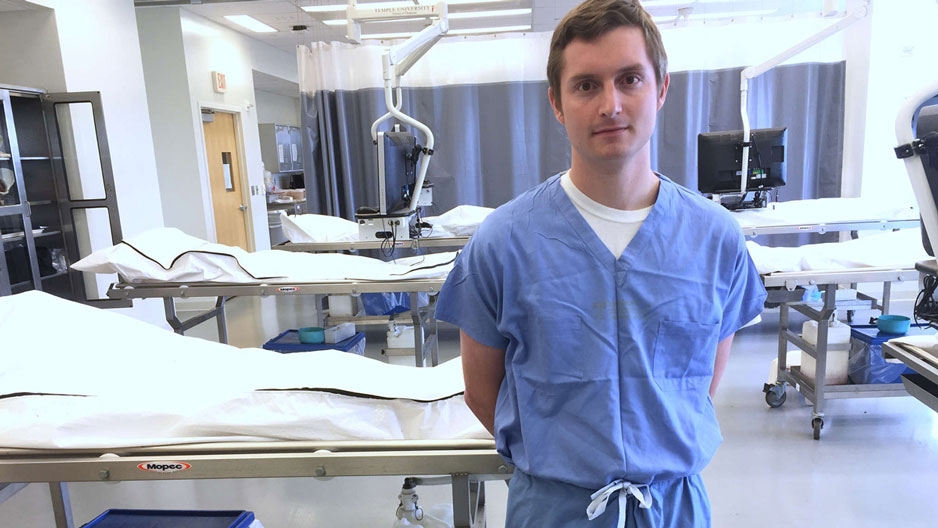 A month into medical school, Michael Rockman found himself at the center of a life-changing lesson in the most unexpected place—on the other side of the hospital bed.
On Sept. 19, 2015, Rockman, an MD/PhD student at the Lewis Katz School of Medicine, had just finished his second exam as a medical student and hopped in the car to go visit his girlfriend at his undergraduate alma mater, Lafayette College in Easton, Pennsylvania.
He never made it.
"The last thing I remember is getting off [Route] 476 in Quakertown, and then four days later. That's it," Rockman, now 23, said.
This was the beginning of a new and unexpected part of my medical education, with lessons I believe will make me a better doctor.
-- Michael Rockman
Rockman doesn't remember the car that crashed into his, the impact cracking bones in his pelvis, breaking his left femur, and leaving him with internal injuries that would require surgeries to repair. He awoke in a hospital bed after four days in a medically induced coma, surrounded by family, doctors and nurses—and in the midst of what he says is one of his most significant life lessons.
Through connecting with Michael Vitez, director of Temple's Narrative Medicine Program, Rockman, now almost fully recovered, recently shared his story publicly. In a heartfelt first-person piece he wrote, published in The Philadelphia Inquirer in October, Rockman described how his injuries sidelined him from medical school for months, but that didn't mean he stopped learning.

"This was the beginning of a new and unexpected part of my medical education, with lessons I believe will make me a better doctor," Rockman wrote. "First, I learned the power of reaching out to help someone in need. I was blown away by the love and support I received in visits, notes, and calls."

Rockman said a few significant takeaways stood out for him—personally and professionally.

"It really takes a village," he said. "It takes the family and support network to really finish the process."
And at a time of transition in his life and challenging coursework, he said, becoming a patient forced him to focus on what's most important.
"Especially as students, it's always about trying to get to the next level. Really just putting the brakes on that for a few months, and each day is not about, 'Do I know what's on slide 50 of the lecture today?' It's, 'Hey, how much weight can I put on my leg today?'" Rockman said. "It's reaffirmed what's important, and what you should not stress out about as much."
Rockman said from the outside, it would be difficult see now what serious injuries he faced just a year ago. His scars will continue to fade, but the aspiring doctor, who hopes to work in research when he graduates, said when he does get to the point in his education when he's working with patients, his own experience will stick with him daily.
"We study so much on trying to get the right answers to know what to do, and from a patient perspective, of course that's very important, but what matters more is that you take an interest," he said. "I may not be the smartest on the medical team, but I'll always try and have patients' backs, whatever that entails. There's no job too small."
Read Rockman's full story in The Philadelphia Inquirer.